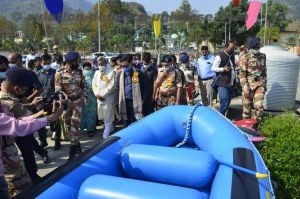 New Delhi. 16 April 2021. Tirath Singh Rawat, Chief Minister (Uttarakhand) and Kiren Rijiju, Union Sports Minister inaugurated the Water Sports and Adventure Institute (WSAI) of the Indo-Tibetan Border Police (ITBP) established at Tehri Dam (Uttarakhand). S. S. Deswal, DG, ITBP and other senior officials of Uttarakhand Government, Uttarakhand Tourism Development Board (UTDB), WSAI and ITBP along with hundreds of local citizens were also present in the ceremony.
Rawat appreciated the valuable contribution of ITBP to the service of the Nation and said that in view of ITBP's glorious history and long experience in the field of adventure sports, the State Government as well as the Uttarakhand Tourism Development Board (UTDB) had signed an MOU with ITBP for running this institute and to develop it as a tourist destination as well. Shri Rawat extended best wishes to DG ITBP and his team for successfully running the institute, and highlighted that the Himveers of ITBP have always helped the state during the any natural calamity with utmost devotion and dedication.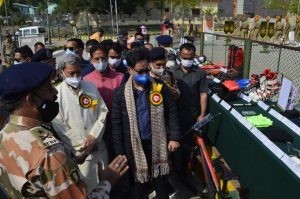 The Chief Minister also said that opening of this institution will boost national and international tourism and it will increase opportunity of employment for the people of the state.
Kiren Rijiju, Hon'ble Minister of State (IC) for Youth Affairs and Sports (Govt. of India), the guest of honor on this occasion highlighted the achievements of ITBP in adventure sports and also wished for the successful management of the institute in the coming years. Sh Rijiju also said the Sports Ministry will be looking forward to assist in many such endeavors in future in the field of adventure sports in the country.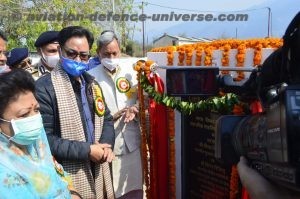 On this occasion, DG ITBP thanked the Government of Uttarakhand and the Uttarakhand Tourism Development Board (UTDB) for entrusting the responsibility of Water Sports and Adventure (WSAI) of Tehri Dam to ITBP for the next 20 years. The Director General said that ITBP's Mountaineering and Skiing Institute (M&SI), Auli, will independently run this institution and that the institute will impart the training in Aero, water and land related sports and adventure sports. The training of Kayaking, Rowing, Canoeing, water skiing, Paragliding, Parasailing, Scuba Diving, Paddle Boating, Speed Boating, Kite Surfing, Jet Skiing etc will also be provided at this institute and apart from this water rescue and life saving courses will be conducted here. It has been targeted to train at least 200 youth in water sports at this institution every year. Currently, three ITBP teams – Kayaking, Canoeing and Rowing – have been deployed here, in which around 59 players are available. Also, there will be other ITBP administrative and supporting staff, and approx 100 Himveer of ITBP will always be remained at the centre. 20 local people have been accomplished their course recently, while another course for 22 persons has been running at present..