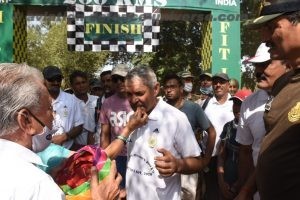 Jaisalmer. 03 November 2020. The first of its kind in the sand dunes of Jaisalmer, the 200 KMs walkathon Mission Fit India completes its trek today. More than 100 participants of the Central Armed Police Forces and State Police Forces took part.
Kiren Rijiju, Minister of State for Youth Affairs & Sports (I/C), Minister of State for Minority Affairs launched the 200 Kilometers fitness March organized by the Indo-Tibetan Border Police (ITBP) in Jaisalmer in Rajasthan on 31 October on National Unity Day from India- Pakistan border last village Nathuwala village.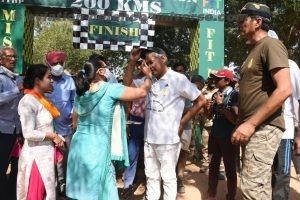 S S Deswal, DG ITBP alongwith senior officials of the completed the 200 KMs route in less than 50 hours. Commandant Ajay Kumar Singh of ITBP is the first to complete the 200 KMs with the timing of 43 Hours 31 minutes.
The ITBP with the active support of 'Fit India Campaign' Ministry of Youth Affairs and Sports, Government of India had organized this first ever 'Fit India- Mission 200 KM' march in Jaisalmer with representation of more than 100 officials of various Central Armed Police Forces (BSF, CRPF, NDRF, RAF, Assam Rifles, NSG etc) and Rajasthan Police, MP Police etc under the leadership of DG ITBP.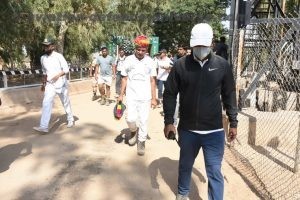 After start at Nathuwala village on 31 October, 2020, the march followed the route through sand dunes (desert) of Sakhirewala, Bhuttewala, Katoch, then towards to the east completing the 200 KMs distance at River Division (RD) 1458 on 2 November, 2020.
The march aimed at 'Fit India' movement and to promote fitness among masses in general. Sh SS Deswal, DG ITBP since past couple of years by personally leading the speed marches from the front has inspired many citizens and force personnel to remain fit and healthy. ITBP is well known for long marches in the Himalayas and over a period of more than 2 years, Sh S S Deswal, DG ITBP along with senior officials of the Force has undertaken dozens of long route and speed marches in the Himalayas and on seaside areas of the country.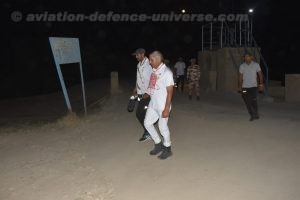 'Fit India-Mission 200 KM' is a landmark in Fit India campaign in the country.