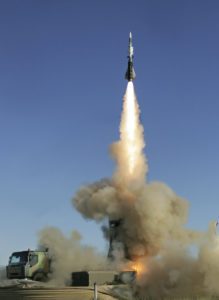 Paris. 13 January 2017. On December 20, OCCAR (Organisation for Joint Armament Cooperation) notified to EUROSAM, a consortium formed by MBDA and Thales, the amendment 1 of the contract for the "B1NT" programme. This amendment embodies the participation of Italy in the programme. It follows the notification of the initial contract under French mandate on December 23, 2015, and the Arrangement of Cooperation, signed in June 2016 by the French and Italian Defence Ministers, laying down the framework of responsibilities and rights of the two countries vis-a-vis the missile to be developed in cooperation, and its multiple applications in land and naval defence systems against air attacks and ballistic missiles.
The "B1NT" programme includes the development by MBDA of the new version Block 1 NT (New Technology) of the Aster missile but also the modernisation of SAMP/T systems currently in service with the French Air Force and the Italian Army. These systems will thus acquire enhanced capabilities, particularly against ballistic missiles, constituting an essential contribution for both countries to the NATO programme in this area.
The Aster 30 Block 1 NT missile development takes into account the key dual requirement (same missile for ground and naval Aster systems), including thus the necessary adjustments to allow the missile to be fired from warships. Italy has in fact expressed its desire to use the Aster 30 Block 1 NT from its future class of PPA (Pattugliatori Polivalenti d'Altura) offshore patrol vessels.
Speaking about the event, MBDA CEO Antoine Bouvier, stated: "The Italian notification strengthens the Aster programme well beyond the financial and technological contribution. Once again, cooperation in Europe adds up to far more than the sum of its parts. After the current Aster 30 Block 1, which gave Europe its first defence capability against theatre ballistic missiles, the Aster 30 Block 1 NT will allow to extend this capability to more complex threats and will also deal with the emerging threat of Anti-Ship Ballistic Missiles (ASBM)."