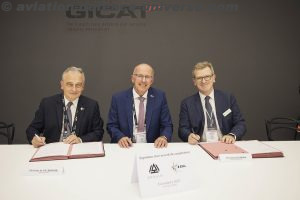 Paris. 15 June 2022.  the French-German Research Institute of Saint-Louis (ISL) and ARQUUS signed a cooperation agreement at the Eurosatory 2022 exhibition in Paris. This five-year agreement will enable ISL and ARQUUS to organise their cooperation more effectively and to establish a long-term partnership.
As European leader for military systems supporting ground mobility, ARQUUS is delighted to partner with ISL which has proven experience in the protection of the armed forces, ranging from the remote detection, localisation and identification of threats up to direct vehicle protection, including robotic systems for reconnaissance and threat response solutions.
Both partners converge on a large number of subjects which are broadly covered by the media, such as electro-mobility or anti-drone systems as well as on less discussed topics which are nevertheless essential for the protection of the armed forces.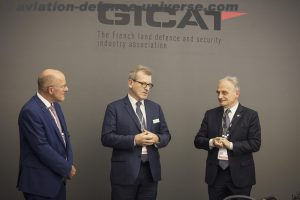 Both ARQUUS and ISL attach great importance to innovation. In fields of common interest, they work on complementary technologies which bring real operational advantages, for instance in the domains of artificial intelligence or additive manufacturing. In addition, the European dimension of ISL as a binational research institute is a valuable asset for this cooperation.
ISL and ARQUUS have been working together for many years. This cooperation agreement gives the existing partnership new impetus and seals an ambitious common commitment for the benefit of the armed forces.