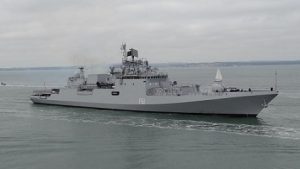 New Delhi. 31 August 2016. Indian Naval Ship Trikand is visiting Antsiranana in Madagascar as a part of deployment of the Western Fleet to the countries on the East Coast of Africa and Island nations in the Western Indian Ocean. The ship is part of the Indian Navy's Western Fleet based at Mumbai under the Western Naval Command and is on a two month long deployment, along with Indian Naval ships Kolkata and Aditya. The visit is aimed at strengthening bilateral tiesand reinforcing maritime security cooperation between India and Madagascar. At the helm of the ship is the Commanding Officer, Captain Arjun Dev Nairwho is assisted by a team of professional and highly motivated men of the Indian Navy.
India and Madagascar have historic links through maritime trade which paved the way for settlement of a sizeable population of Indians in Madagascar. The Indian diaspora in Madagascar has contributed actively in promoting our shared socio-cultural heritage and common values. India is involved in capability enhancement for Madagascar under the ambit of ITEC program and India Africa Forum. Indian companies have made substantial investments in Madagascar, mainly in the sectors of mining, oil and gas, telecommunications and health. India and Madagascar are also members of Indian Ocean Naval Symposium (IONS), a voluntary and co-operative initiative between 23 countries of the Indian Ocean Region, which has served as a valuable forum for sharing of information and cooperation on maritime issues.
The last visit by IN ships to Madagascar was from 09 -12 October 2014, when IN ships Mumbai, Talwar, Teg and Deepak visited Antsiranana. The current visit seeks to underscore India's peaceful presence and solidarity with friendly countries of the region and strengthen the existing bonds of friendship between India and Madagascar.