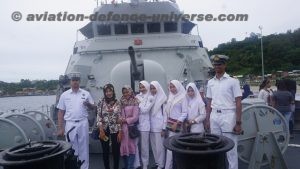 New Delhi. 11 July 2018. During recent visit of Prime Minister Narendra Modi to Indonesia, it was decided India would invest and develop the strategic port of Sabang, Indonesia.
INS Sumitra became the first warship to enter Port of Sabang. It was received by traditional dancers and Indonesian traditional band. The ship hosted the the Ambassador of India to Indonesia , Indonesian Foreign Affairs officials, members from Indian embassy, Indian businessmen and Indonesian Naval and Air Force officers onboard.
This being the maiden entry of a warship at Sabang, it created a lot of local interest on the island that has a population of just about 30,000.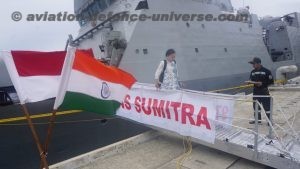 The ship was opened to visitors for a few hours. Even though it was a working day, over 350 visitors incl children came onboard. The visitors included families of Armed Forces, students from colleges and nursing schools, local govt offices and local airport.
The visitors were given a guided tour onboard.