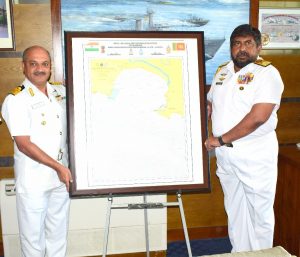 New Delhi. 13 May 2017. INS Darshak of the Eastern Naval Command which has been on a two month deployment to Sri Lanka has successfully completed surveys of Weligama Bay and Southern coast of Sri Lanka. The result of the surveys were formally handed over by Captain Peush Pawsey, Commanding Officer, INS Darshak, to Vice Admiral RC Wijegunaratne, WV, RWP & Bar, RSP, VSV, USP, ndc, psn, the Commander of Sri Lanka Navy, in a ceremony held at Colombo on 12 May 17.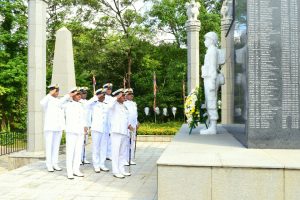 The survey operations were undertaken in three phases and ship also visited Colombo and Galle harbour. The ship and ship's survey motor boats fitted with multi beam systems were extensively deployed and the hydrographic survey data for more than 7000 nautical miles was collected. Ship's integral Chetak helicopter also participated in the operations.

The Officers and sailors of Sri Lanka Navy had embarked ship during the conduct of joint survey operations and were also imparted training on various aspects of hydrographic surveying. In addition, the sailors of both the navies interacted during ship's stay at Colombo and Galle and played friendly football, volleyball and basketball matches. Beach cleaning drives were also conducted as part of interaction.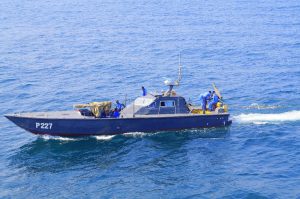 INS Darshak has the unique distinction of having surveyed in Mauritius, Seychelles, Myanmar, Mozambique and Tanzania in the last few years. The successful completion of the maiden Joint Hydrographic survey with Sri Lanka Navy marks a new beginning in the bilateral relations.