Vishakhapatnam. October .An indigenously built Torpedo Launch and Recovery Vessel  INS Astradharini, was commissioned into the Indian Navy by Vice Admiral Satish Soni, Flag Officer Commanding Eastern Naval Command.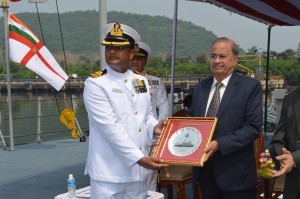 The design of the Astradharini was a collaborative effort of NSTL, M/s Shoft Shipyard and IIT Kharagpur and has a unique design of a catamaran hull form that significantly reduces its power requirement and is built with indigenous steel. Having a length of 50 m, the vessel is capable to do speeds up to 15 Knots. It can operate at high sea states and has a large deck area with Torpedo Launchers for deploying and recovering various kinds of torpedos during the trials. T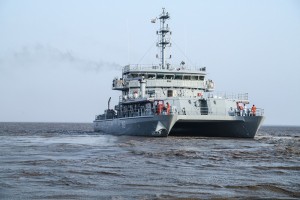 The ship also has modern power generation and distribution, navigation and communication systems. The unique hull form of the ship demonstrates the country's ship design and shipbuilding capabilities. It is a matter of pride that 95% of the ship's systems are of indigenous design thus demonstrating the Navy's continued adherence to the Make in India philosophy.
INS Astradharini will be used to carry out the technical trials of underwater weapons and systems developed by NSTL, a naval systems laboratory of DRDO. It is an advanced replacement for Astravahini which was decommissioned on 17th July 2015.
It has a complement of 02 officers and 27 sailors; Astradharini is can accommodate 13 DRDO scientists and has the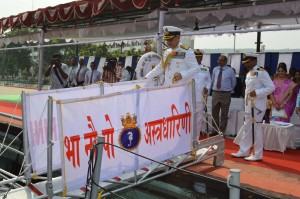 capacity to undertake multiple trials during a single sortie. The commissioning of INS Astradharini will add a powerful punch to the DRDO's R&D capabilities and will accelerate the development of underwater weapons and systems.
Addressing the gathering later, the Chief Guest Vice Admiral Satish Soni congratulated the NSTL for their contribution in partnering the Shipyard through the ship building and trials process which have contributed towards building this fine ship. He said that the induction of INS Ashtradharini adds thrust to the National  ongoing endeavours at indigenisation and achieving the national  goal of self-reliance in under water weapons development. He later unveiled the commissioning Plaque and dedicated the ship to the nation.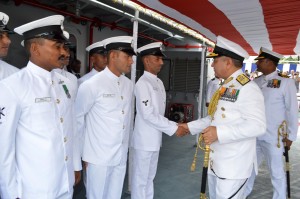 Distinguished Scientist Dr. V Bhujanga Rao, Director General (NS &M) DRDO,  CD Malleswar, Director NSTL, Visakhapatnam,  Sahay Raj, CMD of M/s. Shoft Shipyard Pvt. Ltd, Bharuch, Gujarat and various other dignitaries were also present during the commissioning ceremony.