Passengers encouraged to use taxi and bus services to travel to the Airport; limit use of self-drive
Passengers using driver-driven vehicles, taxis and public transport, will not be inconvenienced by the changesNew
passenger parking areas will offer high-frequency shuttle services
Passengers are requested to ensure adequate travel time to manage infrastructure changes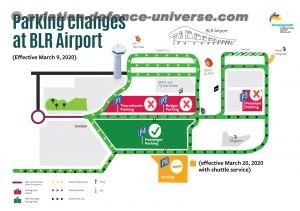 Bengaluru. 04 March 2020. The Kempegowda International Airport, Bengaluru (KIAB or BLR Airport) is undergoing a massive transformation towards the development of Terminal 2. The large-scale infrastructure development will cater to the stupendous growth in aviation and, more importantly, make BLR Airport future ready.
The latest phase of ongoing development may impact the movement of passengers and visitors traveling to the Airport using self-drive cars, as a large part of the construction and related activity is taking place at the forecourt area of Terminal 1. However, once completed, the infrastructure promises to take the Airport experience to a new level. With customer-centricity at its heart, BIAL has always ensured adequate facilities to offer passengers a hassle-free Airport experience. With well-planned diversions and secondary access roads, efforts are being made to minimise the impact on passengers.
Passengers and visitors traveling to and from BLR Airport, please note these changes, starting March 9, 2020 (refer Map):
Passenger parking areas (P1: Two-Wheeler, P2: Budget and P3: Premium) will be closed. Private parking (non-taxi) will be available at P4, while P6 will open for the public from March 20, 2020. Passengers are advised to limit the use of self-drive cars to avoid inconvenience. Owing to changes in parking areas, there will be an increase in walk-time to and from the Terminal.
Passengers who choose to self-drive may park at P4 or P6 parking area. The Terminal is a short walk from P4.
Passengers who park at P6 can use the complimentary Airport Shuttle that will operate at a 10-minute frequency between P6 parking and Terminal. The shuttle service has been pressed into service specifically to enable easy access to the Terminal.
While the Ola boarding zone will remain unaffected, the Uber boarding area will move to an adjacent facility on March 17, 2020. However, these changes will not affect the services of app-based taxis.
Airport Taxis will continue to operate from the current location, as will BMTC Vayu Vajra and KSRTC FlyBus services, which have recently increased the number of routes.
The change is part of the Terminal 2 development that includes wider roads, metro stations and a multi-modal transport hub. This infrastructure development is intended to increase overall capacity and improve functionality of the Airport. It will create a unique 'Terminal in a Garden' in keeping with the ethos of Bengaluru.