Airforce Station Thanjavur is the chosen base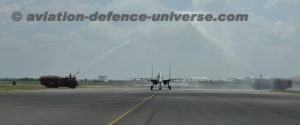 Thanjavur. 20 January 2020. It was a red letter day for Indian Air Force when Su 30 MKI with Brahmos got inducted into No 222 Squadron, the Tigersharks at Air Force Station Thanjavur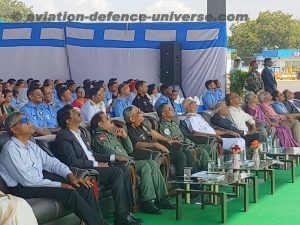 General Bipin Rawat the Chief of Defence Staff (CDS), Air Chief Marshal RKS Bhadauria , Chief of the Air Staff, Dr G Satheesh Reddy, Secretary, Department of Defence R&D and Chairman, DRDO, Air Marshal Amit Tiwari AVSM VM, Air Officer Commanding – in – Chief (AOC-in-C), Southern Air Command (SAC), Vice Admiral Atul Kumar Jain AVSM VSM, Flag Officer Commanding – in – Chief (FOC-in-C), Eastern Naval Command (ENC), R Madhavan, Chairman cum Managing Director, Hindustan Aeronautics Limited were among others who watched the historic moment for Southern India and Southern Air Command of IAF.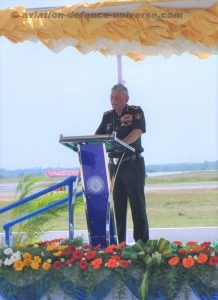 On arrival, General Bipin Rawat, the CDS was received by Group Captain Prajual Singh VM, Station Commander, Air Force Station Thanjavur. In his address the CDS said that the resurrection of the 'Tigersharks' highlighted the Integration and Jointness which is the future of the Indian Armed Forces. He brought out that Su 30 MKI aircraft along with the BrahMos will be the game-changer which will extensively enhance the security of the Maritime domain. The Squadron will be operating closely with the Indian Army and Navy to get the ball rolling in jointness of the Indian Armed Forces.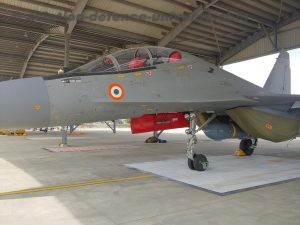 Air Chief Marshal RKS Bhadauria , Chief of Air Staff, thanked the CDS for being at the ceremony. He said that it was a historic day for the Indian Air Force, Southern Air Command, Air Force Station Thanjavur and 222 Squadron.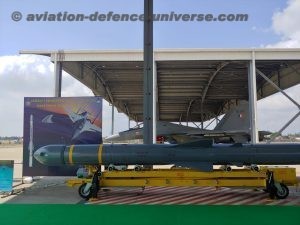 The air launched BrahMos missile, designed and developed by BrahMos Aerospace Private Limited (BAPL), is a 2.5 ton supersonic air to surface cruise missile with ranges close to 300 km. The IAF became the first Air Force in the world to have successfully fired an air launched Trisonic class surface attack missile of this category on a sea target on 22 Nov 17. This was followed by a second live launch over a land target on 22 May 19. Third such live launch of the weapon was done on 17 Dec 19 and with this launch, the integration of the missile on Su-30MKI aircraft, was complete.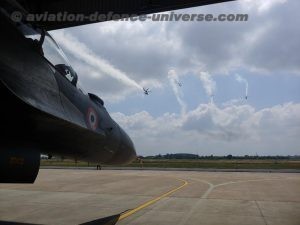 The software development and integration of weapon of the aircraft was undertaken by the IAF engineers while HAL carried out complex mechanical and electrical modifications on aircraft. The dedicated and synergetic efforts of the IAF, DRDO, BAPL, HAL have resulted into making the Indian skies safer.