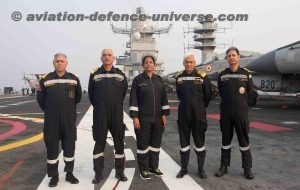 Goa.09 January 2018. More than ten warships from the Indian Navy including the aircraft carrier, INS Vikramaditya, three submarines and various naval aircraft participated in operational manoeuvres conducted off the western coast of India.
The Minister of Defence Nirmala Sitharaman presided over India's show of this might. She initially embarked INS Kolkata, the first of the indigenously built Kolkata Class destroyers and then spent the night at sea on-board INS Vikramaditya. To assess the performance of the carrier in real conditions, the Minister 'transited' through a simulated 'multi-threat' environment on-board along with her 'escorts' during the night of 08 January.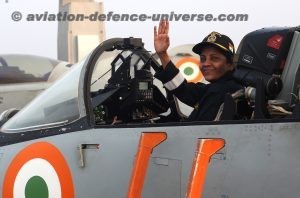 Reviewing the maritime prowess of the Indian Navy over the two days, Sitharaman presided over a multiple complex naval operations including air interceptions, missile, gun and rocket firings, ship-to-ship replenishment, night flying and antisubmarine operations. The Western Fleet of the Indian Navy undertook these major naval manoeuvres off the western seaboard of India to showcase operational excellence and combat capabilities.
"Having witnessed first-hand the prowess of the Western Fleet, I am confident that the Indian Navy is fully capable of defending the nation against any form of threat", she stated.
Continuing the effort to collect feedback from Armed Forces Personnel at all operational levels of the military, Sitharaman interacted closely and had open discussions with the sailors on-board the warships.
Finally, the RM disembarked the ship by naval helicopter to INS Hansa, Goa, today.