Meeting between Director Generals of ICG & PMSA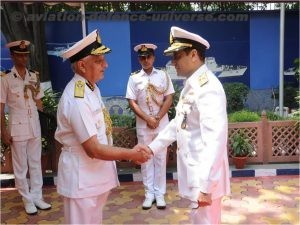 New Delhi. 28 May 2018. DG Rajendra Singh, PTM, TM, Director General Indian Coast Guard is hosting a four member delegation of the Pakistan Maritime Security Agency (PMSA) led by Rear Admiral Zaka Ur Rehman SI(M), Director General PMSA.
A High Level Meeting (HLM) between the Indian Coast Guard and Pakistan Maritime Security Agency was held at Coast Guard Headquarters, New Delhi on 28 May 18 under the provisions of the Memorandum of Understanding (MoU) signed between the two agencies in 2005. The Indian delegation for the HLM was led by Director General Rajendra Singh, PTM, TM. Officials from Ministry of Defence and External Affairs of both countries also attended the meeting.
During the meeting, the Indian side reiterated the need for instituting Standard Operating Procedures (SOPs) for immediate release and repatriation of the fishermen who cross the International Maritime Boundary Line (IMBL) inadvertently as the issue needs to be approached in humanitarian context. Further, expeditious exchange of the information about the apprehension of fishing boats and fishermen by both sides was also recognised to ensure safety of the fisher folks.
It was also agreed to conduct search and rescue communications exercises between the Rescue Coordination Centres to validate the SOPs for efficient conduct of rescue of distressed vessels/crew at sea .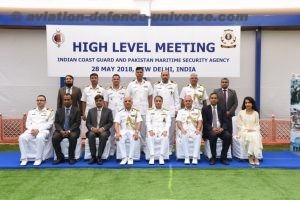 Recognising the need for collaboration for preservation and protection of marine environment, both sides agreed to explore opportunities for cooperation in the field of oil spill response at sea in line with the MoU signed recently by India with the South Asian Cooperative environment Programme (SACEP).
This annual meeting is a significant link between the two maritime agencies for addressing issues pertaining to maritime boundary violations by fishermen and enhancing cooperation in the domain of maritime search and rescue and marine environment pollution. The two service heads from Indian Coast Guard and Pakistan MSA also have a hotline link between them for regular exchange of information on non-militarymaritime issues as per the MoU between the two governments.