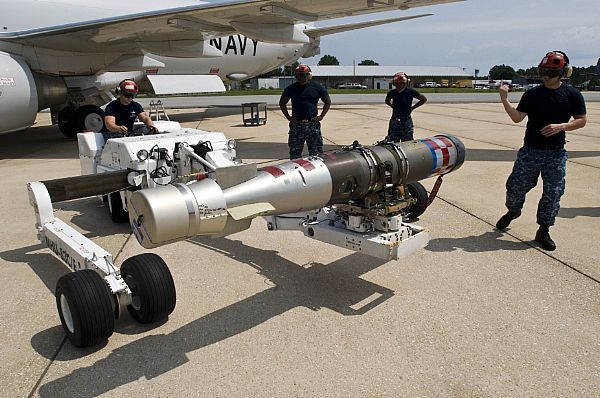 Contract worth ₹ 423 Cr with US for procurement of Arms for Indian Navy signed
New Delhi. 22 October 2021. The Ministry of Defence has signed a contract on 21 October 2021 with the US Government under Foreign Military Sale (FMS) for procurement of MK 54 Torpedo and Expendable (Chaff and Flares) for the Indian Navy at a cost of ₹ 423 Crores. These weapons are the outfit of P-8I Aircraft which is used for Long range Maritime Surveillance, Anti-Submarine Warfare and Anti-Surface Warfare (ASV).
The MK 54 lightweight torpedo is the primary anti-submarine warfare weapon used by U.S. Navy surface ships, fixed-wing aircraft and helicopters. Designed to operate in shallow waters and in the presence of countermeasures, it can track, classify and attack underwater targets.
It may be recalled that the State Department had made a determination approving a possible Foreign Military Sale to the Government of India of sixteen (16) MK 54 All Up Round Lightweight Torpedoes (LWT); three (3) MK 54 Exercise Torpedoes (MK 54 LWT Kit procurement required); and related equipment for an estimated cost of $63 million. The Defense Security Cooperation Agency delivered the required certification notifying Congress of this possible sale.
The Government of India had requested to buy sixteen (16) MK 54 All Up Round Lightweight Torpedoes (LWT); and three (3) MK 54 Exercise Torpedoes (MK 54 LWT Kit procurement required). Also included are MK 54 spare parts; torpedo containers; two (2) Recoverable Exercise Torpedoes (REXTORP) with containers; Fleet Exercise Section (FES) and fuel tanks built into MK 54 LWT Kits (above); air launch accessories for fixed wing; spare parts; training, publications; support and test equipment; U.S. Government and contractor engineering, technical, and logistics support services; and other related elements of logistics support. The estimated program cost is $63 million.
This proposed sale will support the foreign policy and national security of the United States by helping to strengthen the U.S.-Indian strategic relationship and to improve the security of a major defensive partner, which continues to be an important force for political stability, peace, and economic progress in the Indo-Pacific and South Asia region.
The proposed sale will improve India's capability to meet current and future threats from enemy weapon systems. The MK 54 Lightweight Torpedo will provide the capability to conduct anti-submarine warfare missions. India will use the enhanced capability as a deterrent to regional threats and to strengthen its homeland defense. India intends to utilize MK 54 Lightweight Torpedoes on its P-8I aircraft. India will have no difficulty absorbing these systems into its armed forces.
The proposed sale of this equipment and support will not alter the basic military balance in the region. The principal contractor will be Raytheon Integrated Defense System, Portsmouth, Rhode Island. There are no known offset agreements proposed in connection with this potential sale. Any offset agreement required by India will be defined in negotiations between the purchaser and the contractor(s).
Implementation of this proposed sale will not require the assignment of additional U.S. Government and/or contractor representatives to India; however, U.S. Government Engineering and Technical Services will be required on an interim basis for training and technical assistance.
The Mk 54 was co-developed by Raytheon Integrated Defense Systems and the U.S. Navy under the U.S. Navy's Lightweight Hybrid Torpedo program in response to perceived problems with the extant Mk 50 and Mk 46 torpedoes. The Mk 50, having been developed to counter very high performance nuclear submarines such as the Soviet Alfa class, was seen as too expensive to use against relatively slow conventional submarines. The older Mk 46, designed for open-ocean use, performed poorly in the littoral areas, where the Navy envisioned itself likely to operate in the future.
The Mk 54 was created by combining the homing portion of the Mk 50 and the warhead and propulsion sections of the Mk 46, improved for better performance in shallow water, and with the addition of commercial off-the-shelf (COTS) technology to further reduce costs. It shares much of the software and computer hardware of the Mk 48 ADCAP heavy torpedo, based around a custom PowerPC 603e microprocessor.
Developmental testing began in July 1999, and a successful critical design review was completed in November 1999.
In April 2003, Raytheon was awarded a sole source contract for the production of the Mk 54. Full rate production began in October 2004. In March 2010 the Fifth Fleet requested improvements in the Mk 54's performance against diesel-electric submarines via an Urgent Operational Need Statement (UONS). This led to a software Block Upgrade (BUG) program which began testing in August 2011 and which continues, having been criticised by the Director, Operational Test and Evaluation (DOT&E) for using unrealistic proxies for threat submarines.
The Mk 54 can be fired from surface ships via the Mk 32 surface vessel torpedo tubes or the vertical launch anti-submarine rocket (ASROC) systems, and also from most ASW aircraft, although they are slightly different lengths and weights. The P-8 Poseidon uses the High-Altitude Anti-Submarine Warfare