2 MW Solar Power Plant inaugurated at INS Kalinga
Foundation Stone for a Missile Park "AGNEEPRASTHA"laid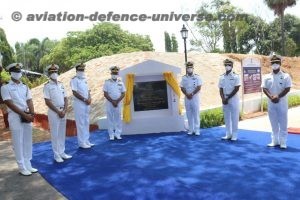 Vishakhapatnam. 29 May 2020. The week gone by saw activity galore at INS Kalinga of the Indian Navy's Eastern Naval Command. A  2 MW Solar Photovoltaic Plant was commissioned and a foundation Stone for a Missile Park "AGNEEPRASTHA" was laid.
The plant, which is the largest in the ENC and has an estimated life of 25 years. Despite the lockdown, all concerned agencies including APEPDCL worked out a contingency plan adhering to all guidelines promulgated for Coronavirus pandemic and executed the work.
Speaking on the occasion, Vice Adm Atul Kumar Jain stated that the commissioning of this plant demonstrates the commitment of Eastern Naval Command towards conservation of the environment and eco-friendly measures. INS Kalinga, currently headed by Cmde Rajesh Debnath, has taken significant strides in Green Initiatives since it's setting up in the early 1980s, including afforestation, numerous plantation drives, coastal cleanup drives and protection of the Geo-Heritage site "Erra Matti Dibbalu".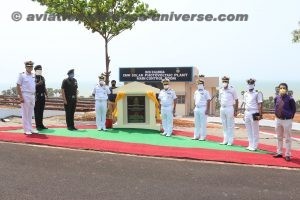 The Missile Park 'AGNEEPRASTHA' aims to capture glimpses of Missile History of INS Kalinga since 1981 till date. The Missile Park has been set up with a replica of missiles and Ground Support Equipment (GSE) that showcase the evolution of missiles handled by the unit. The exhibits have been created from scrap / obsolete inventory which have been reconditioned in-house. The main attraction is P-70 'Ametist', an underwater launched anti-ship missile from the arsenal of the old 'Chakra' (Charlie-1 submarine) which was in service with IN during 1988-91.