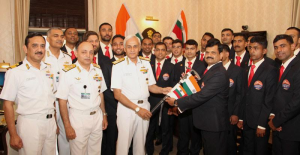 New Delhi. 23 March 2017. Indian Navy is on its way to conquer the  highest peak in the world. It's second expedition to Mount Everest was flagged off by Admiral Sunil Lanba, Chief of the Naval Staff by handing over the Ceremonial Ice Axe to the climbers.
The theme of the Expedition being "Sagar Tal se Sagar Matha (from Seabed to Summit)", the Ceremonial Ice Axe with the Naval Ensign was taken to the bottom of sea by diving off the coast of Karwar and now it shall be taken to the highest point on Earth, thus depicting Navy's efforts to soar from depths of Ocean to the Summit.
The Indian Navy's association with the Himalayas dates back to 1965 when Capt MS Kohli of Indian Navy led the first successful Indian expedition atop the Everest. In 2004, the first all Navy expedition was flagged off from Indian Navy Submarine Sindhuraj at 50 metres below the sea and went on to plant the Naval Ensign at 8848 metres.
24  naval climbers have been selected for this prestigious mission from various Ships, Submarines, Aircraft Squadrons and Establishments of the Indian Navy.
In preparing the climbers for this ultimate challenge in mountaineering, the Indian Navy has conducted expeditions to various peaks in the country over the past two years. These, include peaks like Mt. Saifee (6154m), Mt. Kun (7077m), Mt. Satopanth (7075m), Mt. Jogin (6456 m), Mt. Mukut East (7135 m), Mt Saser Kangri IV (7416m),Mt Saser Kangri I(7672m), Mt. Abi Gamin (7355m) besides a commendable ascent of Mt Kamet (7756m), the highest climbable peak in India.