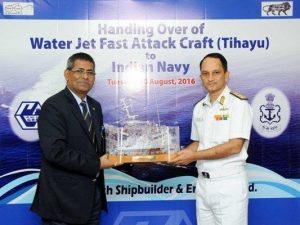 GRSE hands over the second of follow on ship
Kolkata. 05 September 2016. Indian Navy got an addition to its fleet when the Water Jet Fast Attack Craft (WJFAC), "TIHAYU" built by Garden Reach Shipbuilders and Engineers Limited (GRSE), Kolkata was handed over to them recently.
GRSE had earlier built and delivered ten (10) WJFACs to the Indian Navy during 2009 to 2011. Indian Navy has placed order for four more of these WJFACs as 'Follow-on' ships. The first ship of the 'Follow-on' Series of WJFACs INS Tarmugli was commissioned into Indian Navy on 23 May 2016. The second FAC TIHAYU has been delivered by GRSE. These ships are a further improved version of Fast Attack Crafts earlier built by GRSE for Indian Navy. The ship has an efficient hull form developed by the in-house Design Centre of GRSE and proved by extensive model testing, to achieve speeds in excess of 35 knots.
This warship measuring 48 X 7.5 M with a displacement of around 315 Tons, has an endurance of around 2000 nautical miles at 12-14 knots speed. She also boasts of modern habitability conditions with accommodation for 29 personnel.
Named after an island in the Andaman, "Tihayu" is fitted with three water jet propulsion systems powered by marine diesel engines generating 2720 KW of power. It is also fitted with CRN-91 indigenous 30mm Gun, to provide Artillery fire support during attack missions.
The warship was handed over by Rear Admiral (Retd) AK Verma, Chairman & Managing Director, GRSE to the Commanding Officer of the ship Cdr. Ajay Kashov, at a ceremony held in GRSE. Rear Admiral SR Sarma, Chief Staff Officer (Technical) of Eastern Naval Command carried out final inspection of the ship prior to acceptance by the Navy.