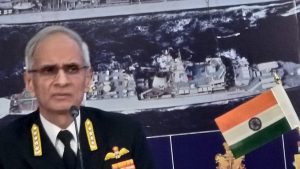 By Sangeeta Saxena
New Delhi. 03 December 2019. India's first indigenous aircraft carrier (IAC) will be handed over to the Indian Navy in 2020, shall become fully operational by 2022, will have MiG-29K fighters on it and the forces' long-term plan is to have three aircraft carriers.
Assuring that the Navy is fully prepared to deal with national security challenges, India's Chief of Naval Staff (CNS) Admiral Karambir Singh told the media in the Navy's annual press conference a day before the nation celebrates its Navy Day, that the Navy is keenly watching China's increasing presence in the Indian Ocean region and is capable of thwarting any threat.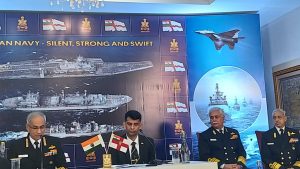 Navy is also in the process of procuring 41 ships and the force is absolutely committed to Make in India. "Our commitment to this pursuit is seen by the fact that out of 50 ships and submarines currently under construction, 48 are being built in Indian shipyards. These include the aircraft carrier Vikrant, P-15 bravo class destroyers, P-17 alpha class stealth frigates, Offshore Patrol Vehicles and Scorpene Class submarines," the CNS said.
Reiterating that the forces' requirement were being met he added that the last of P-28 ASW Corvette is scheduled for delivery by next year and the delivery of four P-8I maritime reconnaissance aircraft is scheduled in 2021 and Navy has also contracted for 16 ASW shallow watercraft and 36 aircraft which include 12 Dorniers, 16 ALH and 8 Chetak. It is also looking at a combination of minesweepers and unmanned solutions, informed the Admiral.
He also informed that the Letter of Acceptance (LoA) from the US for 24 MH-60R multi- role helicopters is here and the deal is expected to be signed . On the progress on LCA Navy the Chief said, " Navy was the first to support LCA.DRDO now wants to give us twin-engine deck-based aircraft and if meets our timelines and requirements, we will take it."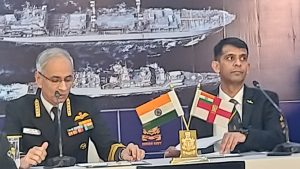 He also informed that the IAC 2 which is to be constructed in India as a 65,000 tons will be a CATOBAR carrier with electric propulsion and the case will be processed for accord of Acceptance of Necessity (AoN).
"There has also been focused efforts to enhance our in-house expertise in repair and upkeep of modern weapon and sensors. Towards this, two major Armament Repair Facilities (ARFs) are being set-up and are likely to be commissioned by sometime mid of next year," he added.
"To support our Fleets to operate effortlessly over the entire IOR, several marine and technical repair infrastructure projects are also being progressed. As you would be aware, a new Dry-Dock was commissioned in September. This is a big step towards captive capability to dock our Aircraft Carriers. Phase IIA of Project Seabird at Karwar is progressing well. Creation of a full-fledged Naval Dockyard and associated infrastructure to accommodate more number of ships and submarines is being undertaken during this phase," elaborated the Chief.
And all this is when the Navy Chief informed, "Navy's share in the defence budget has declined in the last few years. From 18 per cent in 2012 it has come to 13 per cent in 2019-20."