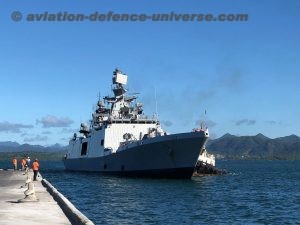 New Delhi. 13 August 2018. To further strengthen our strong bilateral relations with Fiji, an Indian Naval Ship (INS) Sahyadri entered Port of Suva this morning on a goodwill visit.
The Naval Ship is visiting Republic of Fiji enroute to India after participation in the RIMPAC 2018 at Hawaii. During the visit, the Indian Naval Ship personnel will have professional interaction with their Republic of Fiji counterparts and the Ship will have an Open Day for general public on 14 August 2018.
A Medical Camp will be organized in collaboration with Fijian Government where the doctors from India and Fiji will jointly perform Free Health Screening on 15 August 2018 from 1000 hours to 1630 hours at Ratu Sukuna Park, Suva where IN and RFMF bands will also perform jointly at 1130 to 1330 hours.
Officers from INS Sahyadri, RFMF and Indian High Commission will also be participating in mangrove/ sandalwood planting activities on 14 August 2018 from 1600 hours to 1800 hours. The Ship will also be celebrating the 72nd Independence Day of India in the Port of Suva on 15 August 2018.
INS Sahyadri (F49) is the third and latest ship among the Shivalik Class of indigenously built Stealth Frigates and forms a part of the Eastern Fleet of Indian Navy. INS Sahyadri draws her name from the beautiful, age-defying Western Coast (also known as Sahyadri ranges) stretching across 1600 Kms. along the Western Coast of India.