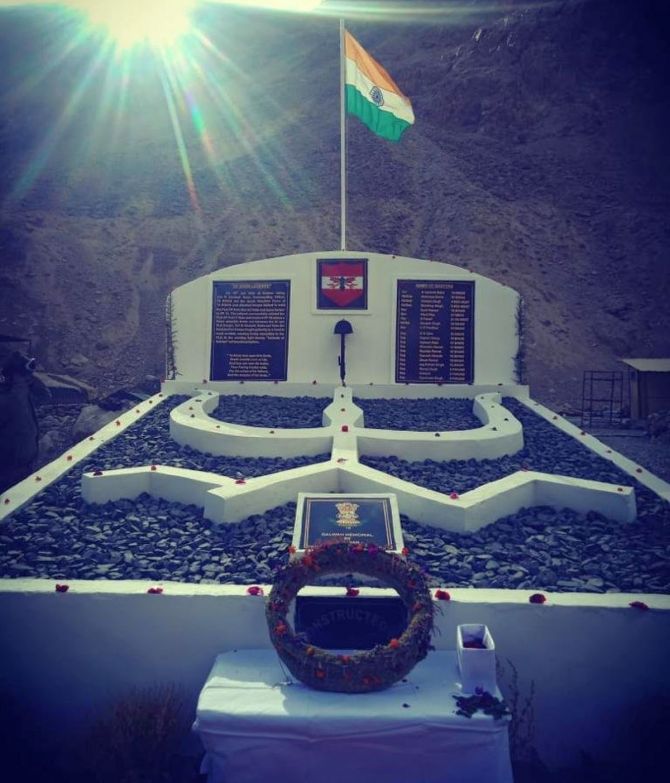 12 out of 20 heroes of Galwan from 16 Bihar
New Delhi. 27 October 2020. India and Indians will never forget the night of 15th of June 2020, when 20 Indian soldiers lost their lives fighting the Chinese troops at Galwan for India. Out of these twenty martyrs twelve belonged to the 16 Bihar battalion of the Bihar Regiment.
The Bihar Regiment is an Indian Army infantry regiment. It traces its origins back to the British Indian Army. The Bihar Regiment was formed in 1941 by regularising the 11th (Territorial) Battalion, the 19th Hyderabad Regiment, and raising new battalions. The Bihar Regimental Centre (BRC) is located at Danapur Cantonment, Patna, the second oldest cantonment of India. INS Vikramaditya, the Indian Navy's largest ship and its sole aircraft carrier is affiliated to the Bihar Regiment, Indian Army's highly-decorated and battle-hardened unit. The regiment also distinguishes itself by having the highest number of Rashtriya Rifles battalions (4 battalions: 4RR, 24RR, 47RR, 63RR) among all regiments of the Indian Army.
The clash at Galwan left Col Santosh Babu, the Commanding Officer of 16 Bihar and 12 of his men dead, besides seven other soldiers. Col Babu had gone with a small detachment of troops to verify if Chinese soldiers had vacated forward position, as had been decided in military commander level talks. After Chinese troops left, Indian soldiers started dismantling illegal Chinese temporary establishments made by the PLA. Chinese soldiers returned in larger numbers and attacked Indian soldiers leading to the martyrdom of CO Col Santosh Babu and his soldiers of 16 Bihar.
Lets know a little more about these heroes of Galwan.
Colonel Santosh Babu Commanding Officer of 16 Bihar, an officer who is remembered as a soft-spoken and gentle person fought a battle armed with nothing more than barbed wire batons and stones and made the supreme sacrifice. From Suryapet, Telangana Babu was the only child of his parents and is survived by his wife B Santosh , a 9 yr old daughter & 4 yr old son.
Sepoy Kundan K Ojha who had recently become father to a baby girl and was looking forward to meeting her at his hometown Sahebganj. But life had other plans. On the fateful night he fought like a tiger and achieved martyrdom. He is survived by his wife, 3 siblings and a newly born daughter.
Havildar Sunil Kumar, resident of Bihta, Bihar is survived by parents, wife, 12 yr old daughter, and 2 sons. Sunil had served in the Army for seven years and his brother too is a exserviceman. The family put pride before personal tragedy like a true Army fraternity.
Sepoy Chandan Kumar from Bhojpur, Bihar has three elder brothers in the army and father who was in Home Guard. Like plans of millions which got shelved due to COVID-19 lockdown, Chandan Kumar's scheduled wedding in May got postponed for better times.But this was not to happen.
Sepoy Aman Kumar of Samastipur, Bihar had completed six years of Army career and an year of married life. His family of parents, wife, three brothers and one sister expressed deep pride at his ultimate sacrifice for the nation.
Sepoy Kundan Yadav was from Saharsa, Bihar is survived by parents, wife & 2 children. The entire village of Aaran in Saharsa mourned this brave soldier but his tale of valour is being told again and again with pride by the villagers.
Sepoy Jai Kishor Singh of Vaishali, Bihar joined army 2 years agoandhis brother too, was in the CRPF. He spent his leaves inspiring the village youth to join the Army and never be scared of death in the face of the enemy. Little did he know then that the same youth would be the ones to carry his mortal remains for the final journey with pride.
Sepoy Rajesh Orang hailed from Birbhum, West Bengal. He was due to get married, and help take care of his bedridden father. Orang was also the only earning member of the family. For this family it was a hard hitting tragedy and the grief of an ailing father having to receive the coffin of his dead son beyond imagination.
Naib Subedar Nuduram Soren of Mayurbhanj, Odisha had served in the army for around two decades and had a smile on his face always. For him the supreme sacrifice at Galwan would definitely have been made with a smile. He is survived by his wife and three daughters.
Sepoy Chandrakanta Pradhan resident of Kandhamal district, Odisha is survived by parents, sisters and is from a poor tribal community. Pradhan was also the only earning member of the family. In his last leave home he had promised to renovate the dilapidated home, but it was not to be.
Havildar K Palani from Kadukkalur village in Ramanathapuram district to join the armed forces at the age of 18. Palani had been serving the Army for the last 22 years. He is survived by his wife P Vanathi Devi (35) and two children- a son aged 10 and a daughter aged 8. The brave havildar had planned to retire from the army next year. But that fateful night at Galwan destiny had other plans and Palani made the supreme sacrifice.
Sepoy Ganesh Hansda, who was killed in action in a violent clash with Chinese troops in eastern Ladakh's Galwan Valley, arrived in Ranchi by a special aircraft on June 18. Hansda, a resident of Kosaphalia village in East Singhbhum district"s Bahrahgora block, had joined the Army in 2018 and was the sole breadwinner for the family that lives in a two-room thatched mud house.