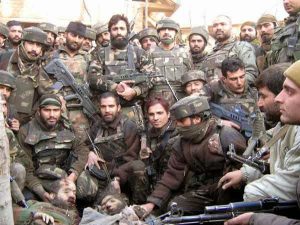 The Bayonet, Symbol of raw courage is unconquerable, fearlessness and valour. Honour the Charge they made! Honour the Ultimate! Honour the Six Hundred!
By Maj Gen LB Chand(Retd.)
New Delhi. 27 October 2020. Every time one sees the Symbol representing Infantry, revered memories of acts of valour of men, God's greatest creation, flows like a pleasantly tingling current through one's body. One simple word "Ultimate" so aptly wraps their character as one who has made the arduous journey, baptised by fire, won the Golden Fleece and he who returned experienced, knowledgeable and courageous to spend rest of their life in peace and harmony.
On the Occasion of Infantry Day, let us celebrate the elite among the Ultimate "The Ghataks". Ghatak Platoons or Ghatak Commandos are specially trained and selected troops part of all Infantry Battalions, which act as force multipliers and spearhead special tasks of the Battalion. The name Ghatak was given by General Bipin Chandra Joshi.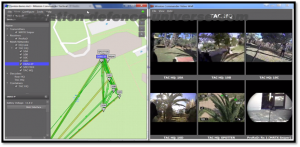 Their operational role is similar to Scout Sniper Platoons and STA platoons of the US Marine Corps, Commando platoons of the British Army, Ranger Regiments of the US Army and the Commando Ranger Regiments of the Republic of Korea Army. They can be tasked by the battalion or brigade commander to carry out tasks such as special reconnaissance, raids on enemy artillery positions, airfields, supply dumps and tactical headquarters or other special operations at a tactical level.
They are also capable of directing artillery and air attacks on target lines deep within enemy. The fearless Ghatak band of Twenty, led by a Young Officer are trained in Commando Operations, High Altitude Warfare and Jungle Warfare. They have already proven their mettle and special skills in all battles fought by Indian Army since their conception. Ghataks had an important role in turning the tide in Kargil War in our favour. As recounted by Gen V P Malik, former COAS to the Tribune on 26 Jul 2002 – "Capture of Tiger Hill – A First Hand Account", "Ghatak Platoon of 18 GRENADIERS, led by Lt Balwan Singh spearheaded the fierce assault on Tiger Hill along the most difficult, North-Eastern Approach.
His Platoon making use of the rope to reached the top of the Tiger Hill at 4:30 AM and totally surprised the enemy which had already suffered due to heavy artillery shelling and air attacks. In the ensuing hand to-hand fighting, the enemy lost 10-12 personnel. 18 GRENADIERS suffered six fatal casualties. Grenadier (now Subedar Major) Yogendar Singh Yadav, who was in the lead on the rope, and wounded badly, earned India's highest gallantry award of Param Vir Chakra." The subsequent actions by 8 SIKH facilitated successful capture of "India Gate" and "Helmet".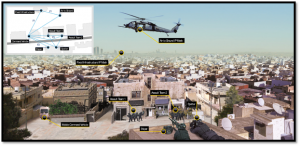 Ghataks have proved their mettle in Counter Insurgency / Counter Terror operations. In one of many successes, Lt Navdeep Singh of the 15th Battalion, Maratha Light Infantry was the Ghatak platoon commander during an operation to ambush 17 well-trained and armed terrorists who had infiltrated into Jammu and Kashmir state, for which he was posthumously awarded India's highest peacetime gallantry award, the Ashok Chakra.
Ghataks have also played an active role in the Surgical Strikes launched by Para SF on 20 Sep 2016 to avenge their fallen comrades post Uri terror attacks when four Jaish-e-Mohammad terrorists attacked the Army's 12th Brigade in Uri sector on September 18, as many as 19 Indian soldiers lost their lives. Sixteen of those soldiers belonged to 6 BIHAR, while three belonged to 10 DOGRA. Later when Indian soldiers conducted surgical strikes on terror camps in Pakistan-occupied Kashmir, the troops included the crack Ghatak platoons of the very same 6 BIHAR and 10 DOGRA battalions.
More recently, in the current Indo-China standoff, Gurtej Singh, one of the 20 Indian soldiers who died in the Galwan clash, was a Ghatak commando. Gurtej, who belonged to 3 PUNJAB, was credited with killing several Chinese soldiers in the clash before breathing his last. It is being widely reported by experts that prior to the Galwan clash, People's Liberation Army had deployed martial art experts in the region. The Galwan clash proved that Armed or Unarmed, Ghataks and Indian troops deployed were more than a match to the martial arts experts. Ghataks are a war winning factor in the ongoing scuffles along the Indo-Tibetan border.
"A war is the ultimate test for the armies and their soldiers. Victory in a war is achieved because battles are won. At the cutting edge of every battle, it is the military skills of the troops, camaraderie, regimental spirit, and above all, the will power and resolve which determine victory."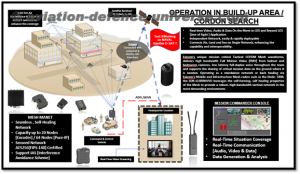 Sandeep Agarwal, Founder and Managing Director Exicom Technologies (India) LLP has been closely associated with the Defence and Security Forces deployed in No War No Peace and Low Intensity Conflict scenarios in J&K, Leh Ladhak and North East.
Based on their experience with foreign commandos, Exicom Tech (I) LLP, strongly believes that for Ghataks / Commandos to perform their assigned role, they need to be effortlessly and automatically interconnected- digitally. An infrastructure less, light weight, undetectable (Low Probability of Detection / Low Probability of Interception), kinetic, on the move Mesh Mobile Adhoc Network with low latency (to support sniper operations & remote unmanned surveillance), high capacity that supports video and data and that can effectively interconnect and provide common operating picture (audio, video and text) to various entities; in an area of 15×15 Kms is a Force Multiplier. In modern digital and autonomous battlefield, it is an operational imperative for smooth conduct of Ghatak / Commando operations. A Radio Set that is versatile to support ground-to-ground as well as ground-to-air/ air-to-air operations is a bonus.
Keeping this in mind Exicom Tech (I) LLP has entered into a production partnership with Domo Tactical Communication, UK a leader in SDR Mesh MANET equipment. The partnership falls in Make in India and Make-II category of Defence Acquisition Plan 2020. We now have a State-of-the Art Mesh MANET systems available as manufactured in India. US Army, has integrated this Mesh waveform into their Tactical Communication Systems.