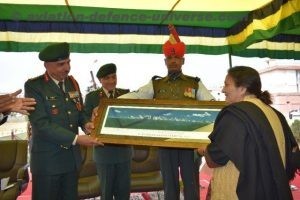 New Delhi, Friday, 09 Feb 2018. Lt Gen Harish Thukral, Sena Medal, General Officer Commanding, Uttar Bharat Area on behalf of the Indian Army presented a T-55 Tank to the Mohammad Ali Jauhar University (MAJU). In a jointly organised ceremony at the University Campus, The "Tank" was accepted by Mohd Azam Khan, Chancellor, MAJU.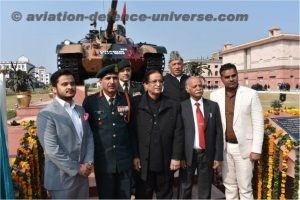 The motivational Tank has been placed on aesthetically constructed platform in front of the main University building which adds to magnificence and beauty of the campus. In his address to the faculty, staff and students, Lt Gen Harish Thukral, Sena Medal appreciated the growth and development of the University within a short period of time and exhorted the youth to join the Armed Forces. He added that the Tank signifies valour, courage and sacrifice of the Indian soldiers and will continue to inspire and motivate students of the Unviersity and youths of Rampur to serve the Motherland. Giving out a brief on the T-55 Tank, he mentioned that this war machine had participated in "Battle of Basantar" during 1971 Indo-Pak War and was instrumental in securing Punjab/Jammu Sector.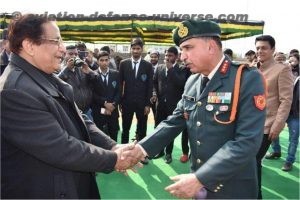 Mohd Azam Khan, Chancellor, MAJU in acceptance speech, thanked Indian Army for presenting this T-55 Tank to the University. He said that the University is still under development and over a period of time this Tank will become an important landmark of the Univerity campus. He assured the GOC that the Tank and the surrounding area will always be kept in shipshape condition as a mark of reverence and respect for the Indian Army. The landmark event concluded with Vote of Thanks by  Mohd Yunus, Vice Chancellor, MAJU and the National Anthem.