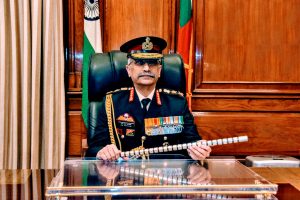 "Pak is unlikely to shed its proxy war agenda and continues with infiltrating terrorists and carrying out terrorist atrocities against innocent civilians. We are geared up for these challenges and robust counter insurgency/ counter terrorism grid is in place," said Indian Army Chief General Manoj Mukund Naravane PVSM, AVSM, SM, VSM, ADC in an exclusive interview to Aviation & Defence Universe (ADU),on the occasion of Army Day, 2020.
ADU.  What are the major issues of preparedness that concern you as the Chief of the Indian Army and how do you plan to encounter them?
COAS. Pace of modernisation is a matter of concern owing to acquisition procedures and budgetary constraints. However, the same is being addressed through rapid procurements that have been facilitated by increasing delegation of financial powers to the Service HQs.
ADU. Has the split of J&K into two union territories of J&K and Ladakh created the need of more deployment in the two UTs? If so what is the increase in strength there and if not have you removed excess deployment?
COAS.The bifurcation has had no implication on the deployment of Indian Army. We maintain deployment along the line of control(LC) and for Counter Terrorism (CT) Operations as hither-to-fore.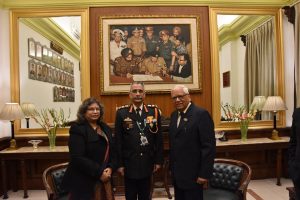 ADU. Is the Indian Army failing on the modernisation front? What is your immediate wish list to the Ministry?
COAS. Indian Army is on the desired path of modernisation. We are procuring the best available weapons &equipment.
Modernisation is a dynamic process based on operational realities, latest available tech, budgetary envelope, etc. Our over dependence on imports has made the situation difficult but with the 'Make in India' endeavours & thrust on indigenisation, we are on the right path to address our capability requirements in a holistic manner.
An example of the same is the latest technology of Light Weight Small Arms Tech (LSAT) Weapons, which are being explored for future induction under the forum of Defence Technology & Trade Initiative (DTTI). Similarly, we have instituted other fora for indigenous development of modern technology like Army Technology Board (ATB), Technology Development Fund (TDF), Innovations for Defence Excellence (IDEX), Advance Technology Development Program (ATDP) and ARTECH Seminar.
We are looking at the latest technology in ATGMs, snipers, night enablement to name a few. Through these fora, we are projecting our problem statements, areas where we want R&D establishment & academia to work & provide solutions. We are also working along with them in some of these projects. All these will definitely be of great help for modernising the army.
ADU.Is there a changed policy on managing the Line of Control post repeated ceasefire violations by Pakistan at the border?
COAS. The Proxy War design of Pak has received a severe setback as elimination of large number of terrorists including top terrorist leaders and decimation of terrorist network has been affected by us. Pak tried to garner global attention on Kashmir issue but could not get traction and has ratcheted up violence on the line of control (LC). Ceasefire Violations (CFVs) have increased to keep the issue on simmer, however these are being retaliated for effect. There have been inputs of reactivation of terror camps and launch pads and renewed infiltration attempts. Pak is unlikely to shed its proxy war agenda and continues with infiltrating terrorists and carrying out terrorist atrocities against innocent civilians. We are geared up for these challenges and robust counter insurgency/ counter terrorism grid is in place.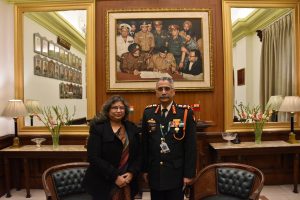 ADU. Do you subscribe to the one-border-one-command concept at the Line of Actual Control, which has been a bone of contention between Army and ITBP?
COAS. Dueto the nuances involved in multiple forces working on the same border, the GoM report on "Reforming the National Security Sys" recommended the Principle of "One Border One Force". ITBP has been made responsibility for India-China Border on this basis.
However, it also has been recommended that all disputed and active borders be under control of Army till resolution, both during peace and War and hence the Army is deployed on the line of actual control (LAC). The Indian Army subscribes to the 'One Border One Force' concept.
There is good coordination between the Indian Army and ITBP and the current arrangements are working well.
ADU. Army has been talking of restructuring itself for quite some time now. What are the additions to troop strength, battalion numbers and higher formations one can accept to see in the near future?
COAS. We need multi-role force capabilities wherein conventional and sub conventional capabilities can be balanced to respond across the spectrum of conflict, with minimum restructuring and at optimum costs. We need to make a transition to a 'capability based modular and responsive structures' based on envisaged future force application scenarios. Right sizing commensurate to ongoing modernisation is also a key imperative that impacts current and future force structures.
In-house measures have been initiated to strengthen and reorganise our Combat, Combat Support and Logistics Support Organisations which are taking shape. As a result of the comprehensive studies on 'Reorganisation and Optimisation of Indian Army', we have been able to optimise the non-essential administrative elements resulting in large manpower and financial savings. Raising of niche capability structures has commenced in the fields of Space, Cyber, Electronic Warfare and Special Forces. Leveraging Artificial Intelligence for our defence preparedness is being given due importance.
The need to evolve and prepare for short duration wars is an imperative. Agile and tailor-made organisational structures will play a fundamental role in achieving war objectives successfully. Therefore, IBG concept as a 'Test Bed' is being implemented in 9 Corps along the Western Front where it will ensure launching operations in an integrated manner and assist in guarding own vulnerabilities. The IBGs, due to their dynamic response abilities, are in consonance with the operational philosophy along the Western Front.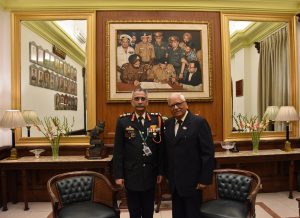 ADU. What is the plan for infrastructural development by the army in sensitive areas?
COAS. Army, in consultation with all stake holders has worked out a consolidated infrastructure development plan along the Northern Borders. The sensitivity of certain areas which are disputed has also been factored. The requirements of the local population are considered while formulating such plans.
ADU. Now that M777 guns have started coming, what is your expectation of the artillery arm?
COAS. Concerted efforts towards modernisation are now manifesting in induction of the state of art heli-portable 155 mm/ 39 cal ULH and SP guns like 155 mm/ 52 cal K-9 Vajra into the Arty inventory. Similarly, induction of 155 mm Dhanush, 155 mm Towed Gun Sys and 155 mm Upgunned is in advance stages.
Induction of additional indigenously produced Pinaka Rocket System will further strengthen our arsenal of Long Range Vectors. Induction of new 155 mm gun system will enable gradual de-induction of the vintage 120 mm Mortar, 105 mm IFG, 130 mm & 130 mm Catapult regiments. 30% of the Arty inventory would have converted to a 155 mm Medium profile in the next five years.