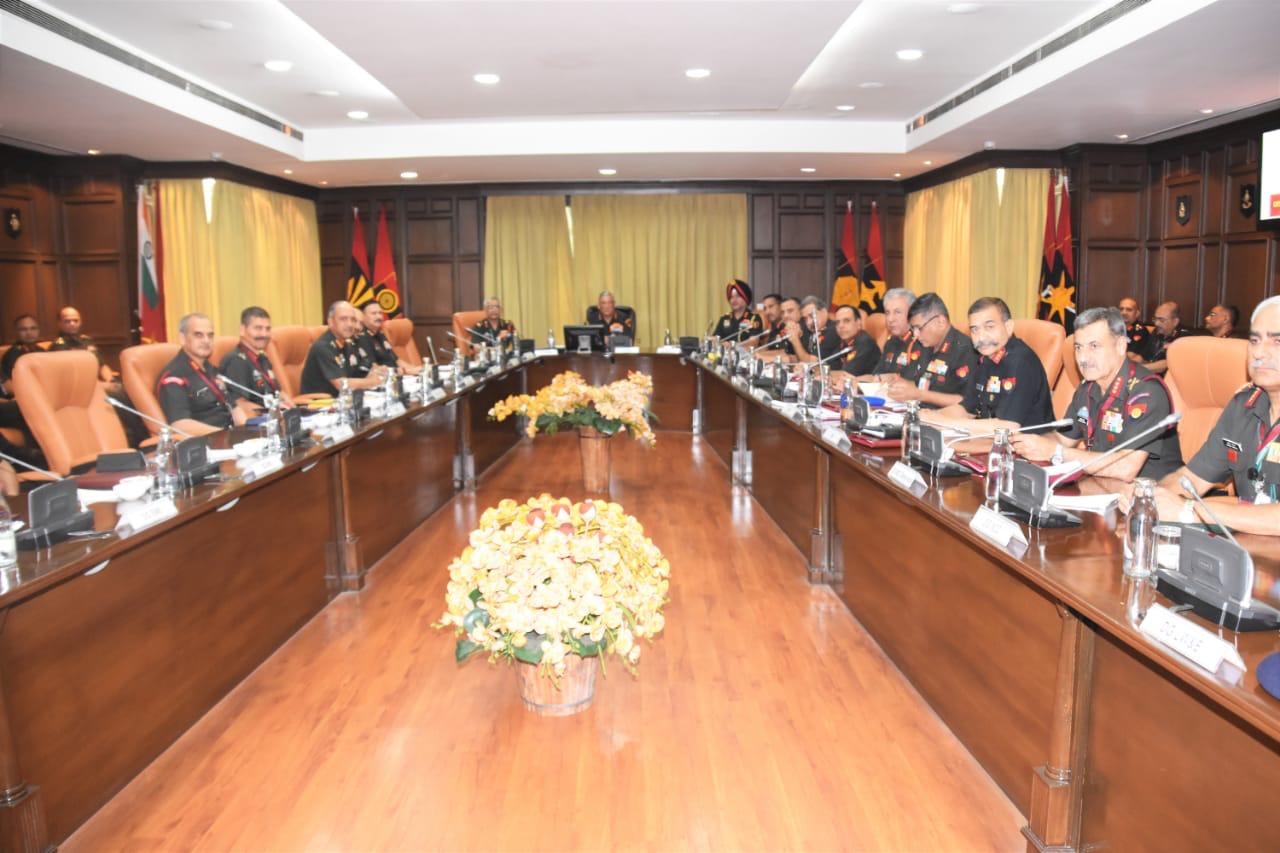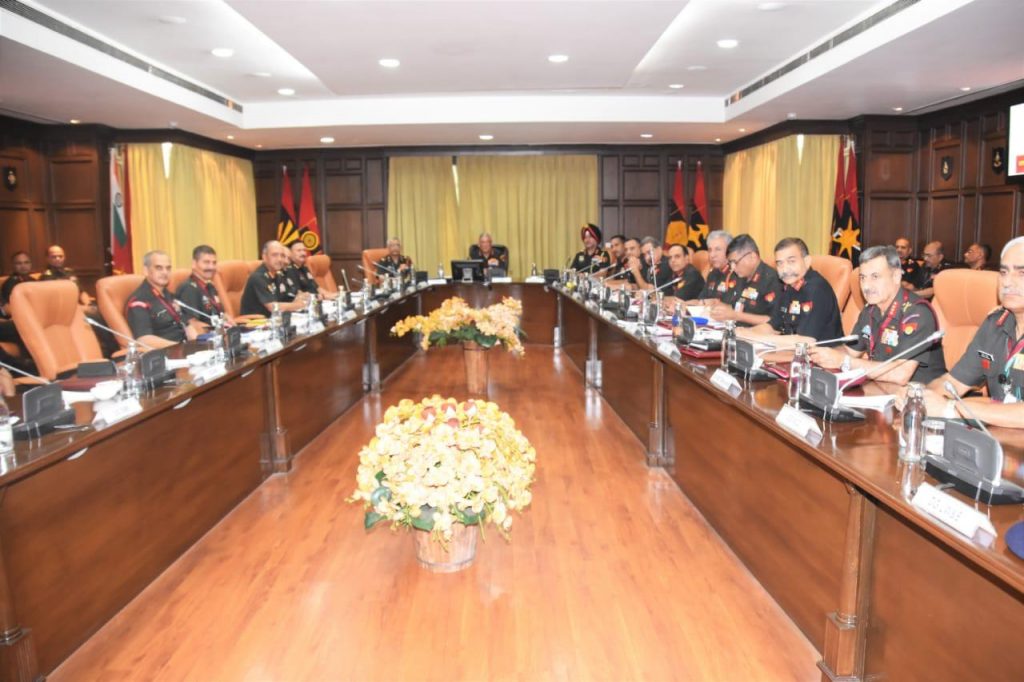 New Delhi. 20 October 2019. Indian Army Commanders brainstormed the status, challenges, developments, changing border situations, low intensity warfare and many more subjects at the Commanders Conference recently.
All important and relevant issues including operational readiness of the field formation, training to meet present and futuristic operational needs, issues relating higher defence management including aspects of organizational restructuring & reforms, aspects around the most important resource of the Army  "the Man"  were among the various aspects that were debated among the top leadership of the Army.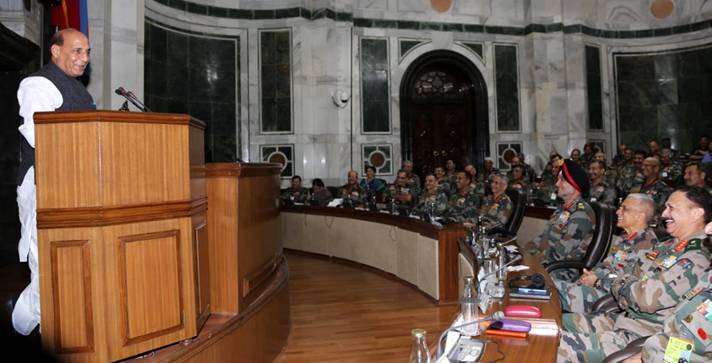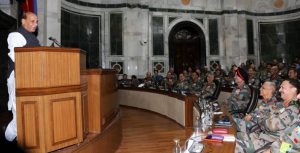 Defence Minister of India Rajnath Singh singled out Army as the last resort for the country in all challenges facing the nation, be it insurgency, borders or even HADR duties. He appreciated the Indian Army's role in synergizing its effort with all other security agencies in meeting the challenges being faced in J&K and called it exemplary.
In artillery ammunition inventory, need of PGMs (precision guided munitions) were always felt. Recently 155MM Excalibur artillery ammunition from US has arrived. The ammunition can be fired at extended ranges. The complete proposal and acquisition was fast-tracked and this could happen primarily to delegation of financial powers to the Service HQ and delegation of emergency powers to the Vice Chiefs of respective Service HQs.
• 155mm Dhanush Towed Gun System is under induction. The gun system is going to qualitatively improve firepower of Indian artillery. Various options for the employment were discussed.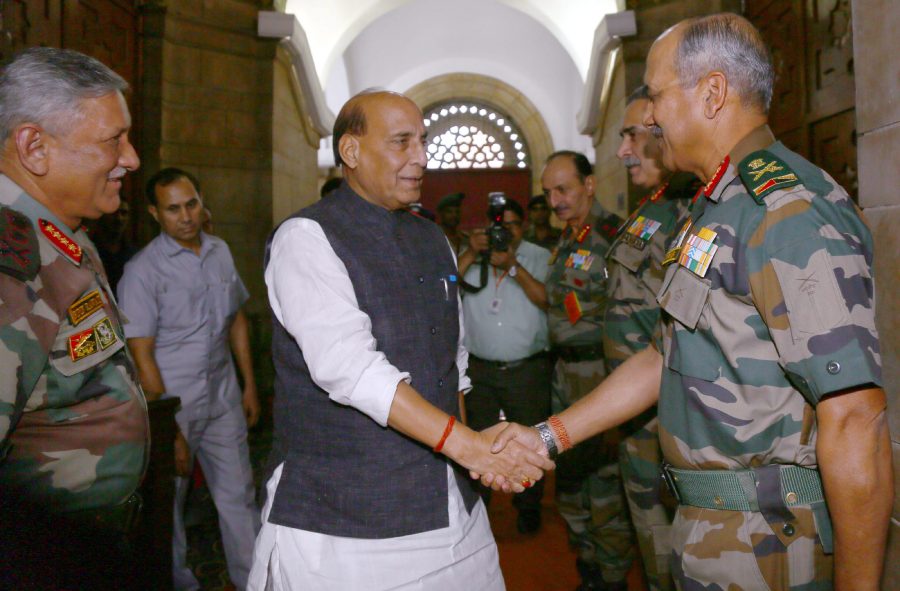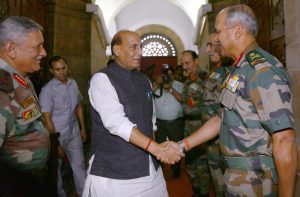 The changing face of warfare all over the world sought attention of the Army Commanders on the likely use of the un-conventional weapons in future. Niche technology, Cyber, Space, information warfare & perception management domains were also touched upon by the Minister, who conveyed his satisfaction on the efforts being put in by the Army.
Training in Army is essentially for war. With changing spectrum of war and conflicts, the conference discussed in detail to adopt various dimensions of training like space, artificial intelligence, much-upgraded military education. The scope of training on these aspects is planned at different levels and shall be rolled out at earliest.
The commanders also dwelt in various niche areas which are required to be included as training aspects at different levels. These are also being rolled out.

Honour Code in officers training academies instill due moral and ethical standards wherein individual cadets are trained to behave as desired as per service ethos. In case of aberrations; there is a self-correcting mechanism composed of cadets only who take the course correction of individual cadets. The system of Honour Code was discussed in details which has been compared with international academies and it has been decided to roll it out.
He also appreciated the mature but firm approach of the Commanders on the nation's borders and highlighted the need to address the concerns of perimeter security, cantonment discipline and tri-service jointness. Calling jointness as the operational necessity, he exhorted Army to take lead towards achieving this.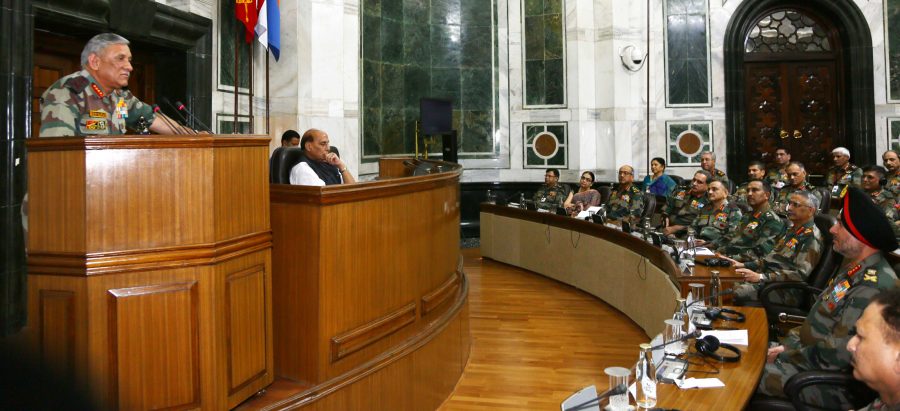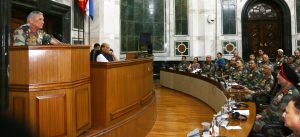 Speaking on the CDS, he reiterated the role of CDS in synergising the efforts of the three services. Govt has approved CDS. There is need of creating arrangements and structures to synergize and which can pave way for effective integration.
The Commanders discussed requirement of _Joint Services Act. Currently each Service has individual Act passed by Parliament. Joint Services Act on approval by the Govt will facilitate faster integration.

Restructuring of Army HQ is in process and some approvals have been accorded by the Govt. It has been decided that restructuring in totality will commence on receipt of full Govt sanction to the proposals, whenever the same is received.
Talking of the defence preparedness, Rajnath Singh assured that there will be no criticalities, however, he also apprised the field commanders on the constraints of the budget. He sought Army's contribution towards hand-holding of the Indian defence industry for the indigenous combat systems under 'Make in India' effort.
Human Resources Development & Employment matters were discussed in great detail at the conference. Officers Automated Structured Information System (OASIS) has been rolled out for full automation of records of officers. OASIS has been hosted on Army Intranet and has details of every officer's data from pre-commissioning to retirement.

Officers get non-empanelled not due to lack of merit but due to lack of vacancy in select ranks. Employment of non-empanelled officers have been made attractive and the options were discussed . Much more number of non-empanelled officers now shall be selected for foreign missions as well as UN tenures. All opportunities shall be provided to these officers for meeting their personal and professional aspirations.

Ex-servicemen status for Military Nursing Officer was earlier left out due to aberration and their inclusion as ex-servicemen was discussed . Such status shall help them with certain privileges which are not available today. Army HQ is progressing the case for its promulgation & implementation. The case is being progressed in a faster manner.
Pensions to '65 and '71 Emergency Commission officers were discussed. The requirement of pensions of this category is well-justified and necessary. Army HQ is progressing the case for their pension with MoD. Many persons are invalidated out of service due to injuries & disabilities before 10 years of service. Army HQ is progressing the case for enhanced grants for these categories of persons.
He also assured a positive response on the issue of budget constraints being faced by ECHS and sought the attention of the Army leadership on adequate facilities for the growing children to ensure continued education at the choice station of the soldier.