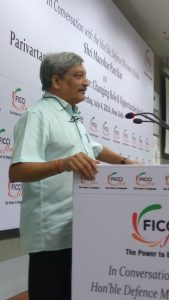 New Delhi. 04 July 2016. Acceptance of women in military has not been smooth anywhere and India is no exception to the rule. But things are changing for the better. Defence Minister Manohar Parrikar today  put forth the idea of raising an all women battalion and stationing of women on warships.
He was addressing a houseful at FICCI on  'Parivartan in Defence Sector: Changing Role & Opportunities for  Women' organised by FICCI Ladies Organisation (FLO). " With women joining the Indian Air Force, the first and foremost psychological barrier has been crossed. The government was now looking at varied roles in the armed forces where women can be inducted. However, the changes have to be gradual," he added.
Parrikar felt that the lack of requisite infrastructure  is the biggest hurdle in inducting omen in the defence forces.  " In warships, women can be on board after modifying the ships. But in case of submarines, women cannot be inducted immediately as provision for separate area for women was difficult to create at the moment," he said.
Parrikar said that he believed in affirmative action rather than reservation. He added that defence was a highly skilled sector, where it would be better to encourage both men and women to join the force instead of making reservations for women. "If you can usher in change without compromising on the primary purpose of the forces, it is well and good," he said.
There has been a demand for girls' entry in Sainik Schools but what happens to them after Class XII for this would be a waste if NDA doesn't have a women entry was the Minister's worry. "Sainik schools are seen as the stepping stone to joining forces. If girls are taken into Sainik schools but if they cannot make it to the forces, they may feel bad. These things have to be looked into," he said.
The challenges are many and triumphs less in the process of getting ample representation from women in the defence forces.  And for those who have become the part of the forces , life has not been a bed of roses. Prove yourself to be better than or at par with the male counterparts is the pressure on them , virtually all throughout. A lot needs to be sorted out till the armed forces open all roles to women.