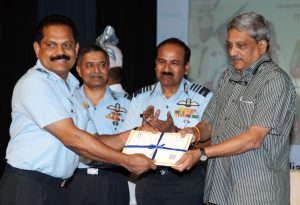 New Delhi, April 27, 2015. This was another first for the Indian Air Force and the maiden success story of completion of a pilot project by the  Ministry of Skill Development and Entrepreneurship . It was the first ever placement ceremony for retiring Indian  Air Force personnel through Skill Certification.
56 IAF personnel were handed over skill certificates conforming to the National Skill Qualification Framework (NSQF) and placement letters. The ceremony was presided over by Minister of Defence, Manohar Parrikar and Minister for Skill Development and Entrepreneurship (I/C) and Parliamentary Affairs, Rajiv Pratap Rudy and also saw dignitaries like Secretary, Ministry of Skill Development and Entrepreneurship, Rohit Nandan, Air Chief Marshal, Arup Raha and NSDC CEO, Jayant Krishna.
As part of the pilot project, these 56 retiring Air Force Personnel were mobilized to undergo training programs post mapping of their trades to National Occupational Standards. Sector Skill Councils provided them training as Trainers and Assessors in three sectors – medical, electronics and automotive, which was followed by their Assessment & Certification. The 3 pilot Institutions identified for these trainings were Mechanical Transport Training Institute, Electronics Training Institute and Medical Training Centre.
These efforts are in line with the MoU signed between the two Ministries in July 2015 to partner in various skill development initiatives. The MoU seeks to provide additional skills to around 60,000 service personnel who retire every year at a comparatively young age in the ranks of Officer, JCO, NCO or Jawans. There is a need to facilitate their resettlement through a financially viable career serving the civil society and adequate skilling will ensure gainful employment of these personnel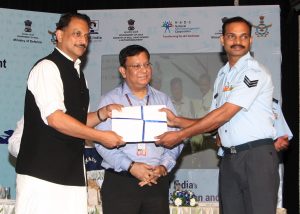 Congratulating the IAF on the success of this pilot, Manohar Parrikar said, "There is a huge shortage of skilled workforce in the country. Skill development and identification is a huge focus for our Prime Minister and we together will ensure that we deliver to his vision. I thank my colleague Rajiv Pratap Rudy for recognising this opportunity where we can collaborate."
"Our personnel are not only fighting for the security of the nation at the borders but will contribute in securing the economy of the nation as well. We are certain to accelerate this partnership in the next couple of years and not even one single ex-servicemen will have to worry about his career post retirement," he further added.
Applauding the success, Rajiv Pratap Rudy said, "Every year 5,000 air warriors retire from the Indian Air Force who are between the ages of 32 to 47.  There is a keen focus for utilising the services of these retirees as trainers and assessors in skill development ecosystem, considering the acute scarcity of experienced trainers in the country. Retired defence personnel with their discipline, leadership qualities and technically sound capacity are a great resource to fill this gap across sectors." Rudy handed out job letters to retired IAF Personnel at Skill Certification ceremony.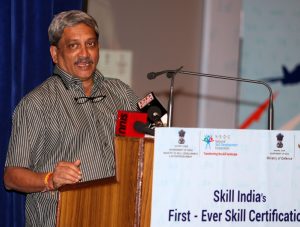 For the Indian army Veterans Cell has conducted the trade equivalence exercise and mapped their service trades to QP-NOS of the Sector Skill Councils. NSDC conducted the Indian Army Skilling Symposium in early January to brief the Line Directorates and Centre Commandants regarding the tie up.   25 Regimental Training centres  had been selected for the pilot program. Identified SSCs and NSDC visited the Regimental Training centres to have an on ground assessment of the facilities.
SSCs and Regimental Training Centres shall be coming up with joint pilot programs at each of the training institutions. Discussion with officials is underway to convert Gurkha RTU to Indian Army Skills Excellence.
NSDC has had discussions with Directorate of Ex-Servicemen Affairs, Indian Navy to skill the retiring Defence personnel for various post retirement options.  Aspiration tool pilot for retiring personnel was conducted with Aspiring Minds in Mumbai in January.  Aspiration pilot mapping was to be discussed and eventually scaled up for the rest of the two services. Workshop for the selected Training Establishments/Schools was conducted on 1st April in Cochin.
NSDC undertook the activity of alignment of DGR Courses to NSQF and QP-NOS.  31 out of 58 courses of DGR have been mapped to QP-NOS. Workshop was conducted with DGR Training Partners in End February to help their Training Partners align their courses to NSQF. DGR Training Partners to align their courses to QP-NOS and migrate to NSQF Assessment & Certification. Selected Centers to be operated by NSDC Training Partners to run courses for the retiring Defence personnel.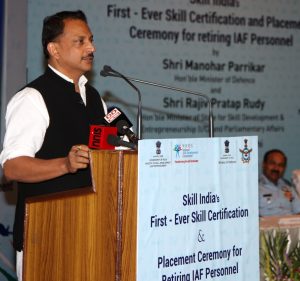 NSDC has also been in discussion with Department of Defence Production for various skill development initiatives including Apprenticeship training, adoption of ITI's by DPSUs and OFB, Support to operationalize Strategic Manufacturing SSC, Alignment of Recruitment Rules, Use of Spare Capacity at DPSUs and donation of spare equipment. Meetings were conducted with Secretary, Defence Production and DPSU Officials. Parameters for adoption of ITI's have been developed by MoD and are being vetted.  Workshops have been  held in end march with DPSUs and OFB for sensitizing on NSQF and support for amending the Recruitment rules NSDC Partners to be linked to the DPSUs to setup Skill Development Centers at the sparable locations of the DPSUs and OFB.
And NSDC model for implementation of Vocational Education in schools have been discussed with Indian Navy and Indian Air Force. NSDC has submitted details of the program implementation to the education departments of the Indian Navy and Air Force. 5 Indian Navy Schools and 4 IAF Schools are being selected to run the pilot of the program.