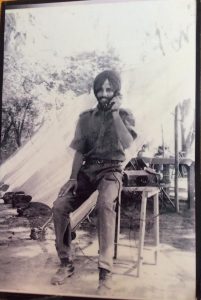 A martyr who is a role model for generations of soldiers
New Delhi. This is a tale of bravery of 1967 when the Indian Army decided to lay a wire fence along the Sikkim-Tibet border at Nathu La to avoid a clash between the Indian and Chinese troops. The task of laying the wire fence was entrusted to 70 Field Coy of 18 Rajput. Maj Harbhajan Singh was Commander of the 'A' Coy battalion at Nathu La who laid down his life, at a young age of 26, fighting the Chinese to save Nathula on 11 September 1967.
At 0540 hours on 11 September 1967, Major Harbhajan Singh who was commanding a company, which was detailed as a protection party for engineers who were constructing a wire obstacle at North Shoulder on Nathu Lal was there when the wire was being laid and a scuffle took place with the Chinese.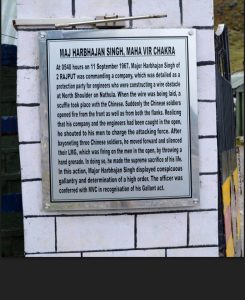 Suddenly the Chinese soldiers opened fire from the front as well as from both the flanks. Realising that his company and the engineers had been caught in the open, he shouted to his men to charge the attacking force. After bayoneting three Chinese soldiers, he moved forward and silenced their LMG, which was firing on the men in the open, by throwing a hand grenade. In doing so, he made the supreme sacrifice of his life. In this action, Major Harbhajan Singh displayed conspicuous gallantry and determination of a high order and was awarded "Maha Vir Chakra".
Major Harbhajan Singh was born on 3rd August 1941 at village Bhatte Bhaini in Patti tehsil of Tarn Taran District in Punjab. Before partition, it was a part of Lahore District, now in Pakistan. His father S. Assa Singh was a patriot and a freedom fighter who was deported from Shanghai (then a British Enclave) for active participation in Gadar Movement in late 1920's.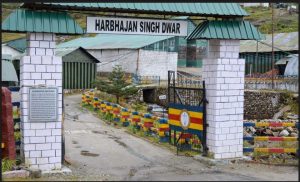 After primary schooling at his village school, Major Harbhajan Singh completed his matriculation in March 1956 from DAV High School, Patti. In June 1956, he got himself enrolled as a boy soldier at Army recruiting office, Amritsar and joined Corps of Signals.
On 30th June 1963, he was granted regular commission as an officer and was posted to 14 Rajput. He took part in Indo-Pak war of 1965 as Adjutant of his Unit. Later he was posted to 18 Rajput unit of the Rajput Regiment. The martyr Hero Of Nathula laid down his life fighting the Chinese to save Nathula Sikkim on 11 September 1967.
A Shahidi Mela Of Major Harbhajan Singh MVC at his native village Batthe Bhaini Tehsil Patti District TaranTaran Punjab is held on 11 September! Shahidi Mela has been organised every year since 1968 at his native village.