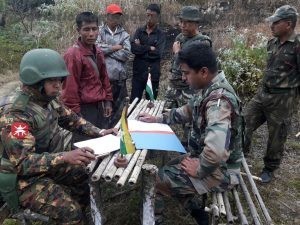 New Delhi. 05 Jan 2018. IMPLM was held at BP-21 at Chapi Village in Saiha district Mizoram . Capt D S Tanwar and Nb/Sub Darwan Singh 1 Assam Rifles under the 23 Sect AR/ IGAR (E) attended the meeting and Maj Kyaw Kyaw represented the Myanmar Army.
Myanmar share borders with four states in India.These are Arunachal, Manipur, Mizoram and Nagaland. The India–Myanmar barrier is a border barrier that India is constructing to seal its 1,624-kilometre (1,009 mi)-long border with Burma. India hopes to curtail cross-border crime, including goods, arms and counterfeit Indian currency smuggling, drug trafficking and insurgency. The United Nations Drug Control Programme (UNDCP) and International Narcotics Control Board (INCB) also warned about the poor state of border security facilities stating that the region could become a major transit point for illicit drugs.
Agenda points pertaining to border security and actions needed to check the infiltration on either side of the border were discussed. After the end of the meeting both sides exchanged the gifts & goodwill mementos and the meeting culminated with refreshments organised by 1 Assam Rifles.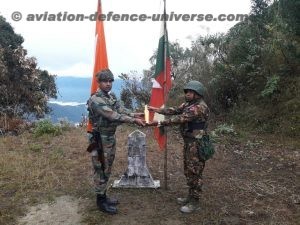 Another IMPLM between 10 AR and MA for the month of December 2017 was held at LCS building , Zokhawthar in India 31 Dec 2017. Maj Vaibhav Joshi and Nb Sub S Changmaji and 02* OR from 10 Assam Rifles under 23 Sect AR/ IGAR (E) attended the meeting and Lt Col Kyi Zaw Cho & Capt Aung Myo Thu and 02 OR from 268 LIR represented the Myanmar Army.