New Delhi. 18 July 2016. India and Malaysia have agreed to proactively engage to combat the menace of ISIS activities.
In a delegation level meeting with the visiting Malaysian Deputy Prime Minister and Home Minister Dato Seri Ahmad Zahid Hamidi, the Union Home Minister, Rajnath Singh said that we are concerned about the danger of enhanced activities of ISIS in democratic countries like India and Malaysia.They have started using our countries as recruiting ground and attract our youngsters with their extremist ideology, he added.
Rajnath Singh said that if we do not address it internally, and if we do not cooperate with each other through strong intelligence sharing, we will find it increasingly difficult to stop this ideology from poisoning the minds of our youngsters. India is also interested in knowing more about Malaysia's deradicalisation programme, he added.
The Union Home Minister proposed more regular meetings of the Joint Working Group on Counter-Terrorism and Transnational Crimes besides regular meetings under the ambit of the MoU on Cyber Security Cooperation signed during the visit of the Indian Prime Minister Narendra Modi to Malaysia in November last year.

Rajnath Singh said the MHA is studying the comments of Malaysia on the draft MoU on Combating Transnational Crime and hoped it would be signed expeditiously. Rajnath Singh also hoped that the MoU on Transfer of Sentenced Prisoners will be fast-tracked.
Seeking Kaula Lumpur's support, the Union Home Minister said that India continues to be concerned about terrorists who plan their terrorist activities from abroad. Expressing satisfaction at the close bilateral security cooperation especially on counter-terrorism, Rajnath Singh lauded the Malaysian Government for its cooperation over the last few years in apprehending some of the terrorists who are wanted in India.
 We appreciate the close cooperation between our security agencies, particularly the Malaysian Special Branch on Counter-Terrorism which has been working closely with the Intelligence Bureau, he added.
The two sides also discussed the issues such as Extradition Treaty and Fake Indian Currency Notes (FICN). The visiting delegation presented a copy of the Integrated Rehabilitation Module for Detainees in Malaysia.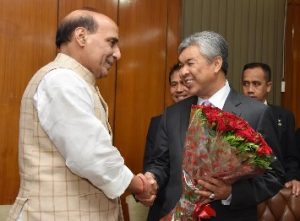 The Indian delegation comprised the Ministers of State for Home Affairs Shri Gangaram Hansraj Ahir and Shri Kiren Rijiju and Senior Officers of MHA while the Malaysian delegation included Deputy Secretary General (Bilateral Affairs), Dato Muhammad Shahrul Ikram Yaakob, High Commissioner of Malaysia to India, Datuk Naimun ashakli Mohammad and other Officers.