New Delhi. 23 September 2019. The curtain raiser for the 22nd edition of India International Security Expo 2019 (IISE 2019) was held by the joint organisers India Trade Promotion Organization (ITPO) and the PHD Chamber of Commerce and Industry (PHDCCI).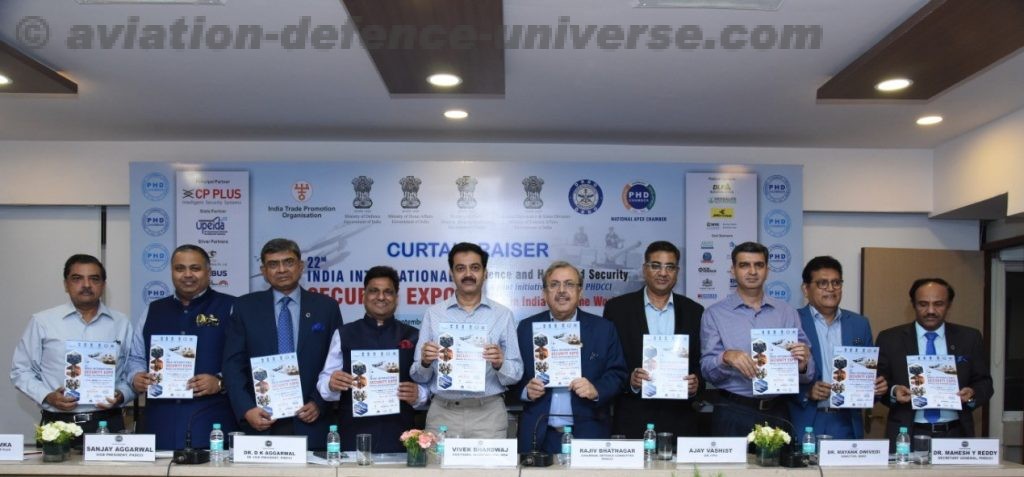 While apprising the participants about the theme of this year's Expo cum Conference which is in line with the Hon'ble Prime Minister's vision of Make in India – For India and the World, Rajeev Talwar, President, PHD Chamber of Commerce and Industry said that this Expo offers an excellent platform for connecting industry stakeholders to explore business and investment opportunities in the area of defence and homeland security.
The Government is continuously pursuing initiatives to achieve higher levels of indigenisation and self-reliance in the defence sector by harnessing the capabilities of the public as well as private sector in the country, said Rajiv Bhatnagar, Chairman, Defence and Home Land Security Committee, PHDCCI.
Vivek Bhardwaj, IAS, Additional Secretary (PM), Ministry of Home Affairs, Government of India appreciated the collaboration of ITPO and PHD Chamber of Commerce and Industry for the Expo and said that the role of technology, investments and industry participation are critical to boost productivity of India's defence sector.
Dr Mayank Dwivedi, Director, Directorate of Industry Interface & Technology Management (DIITM), DRDO emphasized the importance of technology and research & development in promoting defence production so that quality defence equipments and products are made in India.
The theme of this year's Expo cum Conference is in line with the Prime Minister's vision of Make in India – For India and the World and for achieving five-trillion economy and for making the India defence and paramilitary forces to be equipped with latest arms and ammunition, which can be made in India to save on the foreign exchange and which would also create employment opportunities within India.
The three-day extravagant expo cum conference is focused on Defence and Homeland Security in India. Endorsed by the Ministry of Defence, Ministry of Home Affairs, Ministry of MSME and Ministry of External Affairs, Government of India and the DRDO,UPEIDA, State of Uttar Pradesh and Tamil Nadu for promoting their Defence Industrial Corridors, endorsement byInvest India as the Facilitation Partner for Investment.
The exhibition will be attended by eminent officials from the Central and State Governments along with dignitaries from the defence and homeland security industry, said Industry Body PHD Chamber.
The Expo begins on Thursday, 3rd October, which is dedicated to Homeland Security and most likely to be inaugurated by Amit Shah, Hon'ble Union Home Minister. There will dedicated Sessions on Modernising the State Police, Paramilitary Forces and strengthening India's Disaster Management System and will see the presence of key dignitaries from Paramilitary forces, State Police and others.
The Second day will be inaugurated by Rajnath Singh, Defence Minister and is attributed to Defence. Senior Officials from the Indian Armed Forces along with the leaders from the Industry will discuss and deliberate on the Capability Development and Modernisation requirement of Indian Army, Navy and Air Force.
The third day of the Expo is likely to be inaugurated by Dr. Jitendra Singh, Hon'ble Minister of State for PMO & DoNER and will be dedicated to the industrial development of Jammu & Kashmir.
Also the National Security Advisor, Shri Ajit Doval is likely to Chair a roundtable with leading Industrialists for promoting industrialisation in Jammu & Kashmir.
A special Session on Investment in Defence and Homeland Security Start-Ups with Invest India is also scheduled for attracting Indian and foreign start-ups on the same day.
Some of the unique features of the Expo include High-level conferences, summits & discussion sessions presented by eminent speakers; live product demonstrations of technologies and innovations, International Exhibitors & Suppliers, display of high-quality products, among others.
The Expo is the largest gathering of senior decision-makers from Government, Armed Forces, Para Military Forces, State Police, among others along with significant participation form industry stakeholders across the world.
IISE 2019 will witness huge participation from leading Indian and international defence and security companies, which will showcase their innovative products and technologies.
Several B2B sessions would be organised for the Indian and foreign delegates during the Expo, said the Industry Body PHD Chamber.