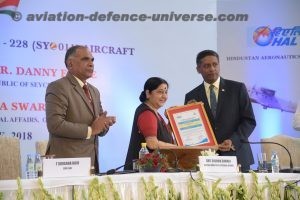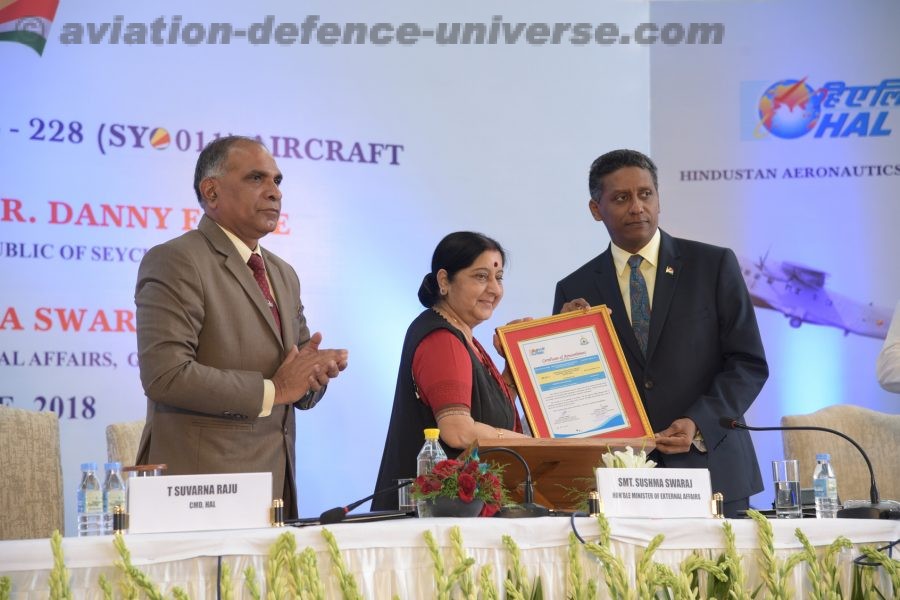 Bengaluru. 30 June 2018. The External Affairs Minister  Sushma Swaraj handed over HAL Do- 228 aircraft to the President, Republic of Seychelles,  Danny Faure at a ceremony in New Delhi. With this, the Maritime surveillance of the island nation received the much needed boost.
Appreciating India's support,  Faure described the `momentous occasion' as historical day and said the inclusion of HAL Do-228 aircraft would bolster the coastal surveillance of Seychelles and provide strategic depth to policing its extensive Exclusive Economic Zone (EEZ). The aircraft has come at the right time and would be flown on the forthcoming 42nd Independence Day of Seychelles on June 29, signifying the strong relations between the two countries.
Describing the event yet another milestone in furthering bilateral defence cooperation between India and Seychelles, Swaraj said, "The handing over of HAL Do 228 to Seychelles reflects the firm commitment and continued engagement of the Government of India in further developing, consolidating and expanding the comprehensive multifaceted cooperation between India and Seychelles". Swaraj also handed over airworthiness certificate of the aircraft to the President of Seychelles.