Ravi Shankar Prasad and Kiren Rijiju optimistic of this association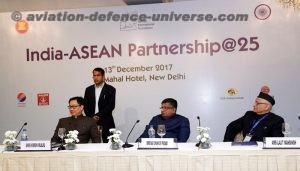 New Delhi. 13 December 2017. The Union Minister for Electronics & Information Technology and Law & Justice, Ravi Shankar Prasad and the Minister of State Home Affairs, Kiren Rijiju reiterated their optimism in India-ASEAN Partnership  while commemorating 50 years of ASEAN and 25 years of the association.
Speaking on the occasion,  Ravi Shankar Prasad said the ASEAN countries proudly flaunt their cultural moorings rooted in ancient India. He said the 3 C's – Culture, Connectivity and Commerce will shape our ties with the ASEAN bloc. The importance New Delhi attaches to ASEAN is evident from the fact that leaders of all the ten ASEAN member nations will attend our next Republic Day celebrations, he added.
Addressing the gathering, Kiren Rijiju said the Union Ministry of Home Affairs has started opening various channels on the borders to foster relations with neighbours, particularly in Eastern and North-Eastern Region (NER). The Land Ports Authority of India has taken up expansion of the Integrated Check Post (ICP) at Moreh in Manipur for expansion of trade with Myanmar, India's gateway to the ASEAN, and it will be inaugurated soon. He said the ICP in Agartala on Bangladesh border has started and few more ICPs besides Land Customs Stations and Border Haats will be set up.
Pointing out that India does not mean we start and end up with New Delhi, Rijiju  said a country begins from its borders and India has vast borders. He said the Prime Minister  Narendra Modi has made amends and New Delhi's policy today has changed from "Look East" to "Act East". Shri Rijiju said the Prime Minister has said that India cannot progress unless the North-East develops. Shri Rijiju said the NER will be the link to the entire South East Asia. Even Andaman & Nicobar Islands are geographically close to the ASEAN, he added.
Rijiju said East India and the NER are rich in mineral and natural resources. He said many of us will be surprised to learn that Dibrugarh contributed more to Government's revenues than India's commercial capital, Mumbai. Myanmar has the third highest Indian diaspora, next only to Nepal and the US, he added.
He added East Asia and South East Asia stretching from Japan and China and upto India is emerging as the world's next economic powerhouse. India cannot be delineated from South East Asia and East Asia, he added.