By Brig Vijay Atray (Retd.)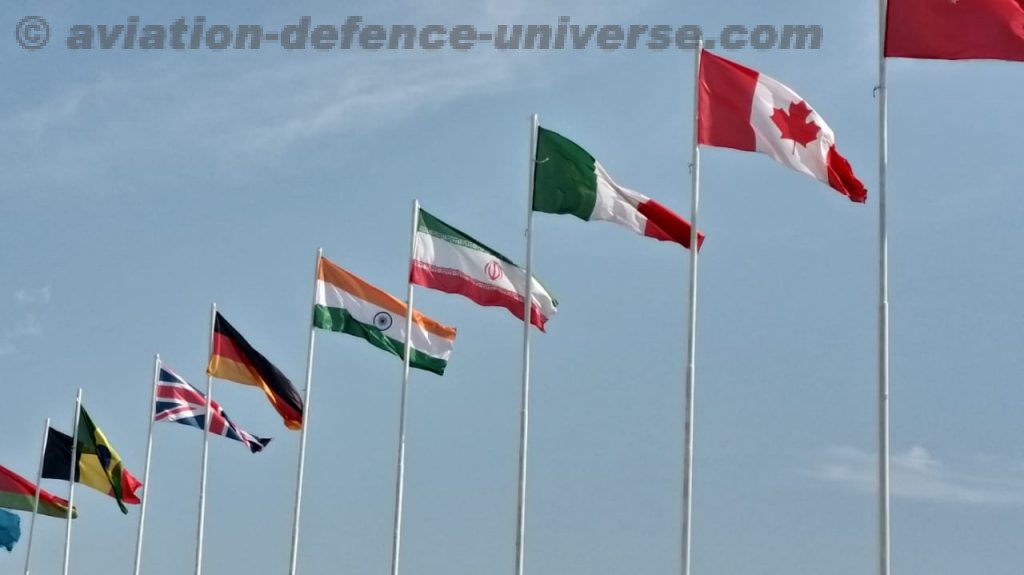 Moscow . 25 July 2021. I was at Manali when I got a call from our editor Sangeeta as to whether I would be keen to attend MAKS 2021 at Moscow from 20 to 24 July. Having lost the opportunity to tour Russia during August last year – due to the outbreak of Covid 19– I accepted the offer. This is my impression of Russia –per say – & MAKS 2021 in particular.
We flew in Moscow in the V hours of 19 th July, surprisingly in jam packed flight. Later we learnt that due to no direct flights from Delhi to London, Saudi Arabia & New Zealand etc. ,people were transiting through Moscow ,from where one could get a flight after two weeks quarantine; though the proposition was very expensive .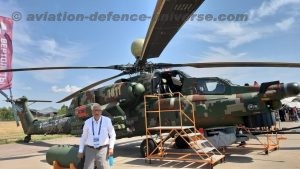 Besides this many students from India studying in Russia – online so far – were returning to their colleges. Well as we landed at Pushkin Airport in Moscow, alighting from the aircraft took more than an hour, for reasons not known yet. But that was not the end of the first impression. After the immigration formalities started the RT -PCR test , which took another hour or so. The agony was multiplied with the absence of air conditioning. This disillusioned us about the first city of Russia.
Thereafter ,our taxi took us to the hotel. The roads were 6 to 8 lanes wide , smooth surface, traffic heavy but moving in systematic & disciplined manner. There were tall multistoried buildings ,mostly with French windows. Many structures gave a feeling of Italian architecture. This raised our morale to an extent .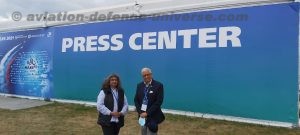 Being the first day at Moscow we spent time collecting entry passes & Covid test with Russian bar code ,which was mandatory to enter the exhibition. Thereafter we set out for site seeing which included Red Square , various churches , Kremlin Museum & drive through the city. The most impressive part of the tour was the armory of Kremlin Museum ,which houses the evolution of guns ,swords, chariots , royal jewelry attires , Dutch cutlery & utensils etc. We also saw the largest church bells & canon which was amazing , specially the stone balls which were fired from the canon. Yet another attraction was diamond hall , which we could not see due to the paucity of time .
The city is beautiful with well laid out wide roads & lanes ,tall impressive buildings Moscow river flowing through the city, seven signature tower buildings to commemorate the eight centuries of independence from the Czars .The Red Square & the Kremlin are the heart of the city. Moscow has embraced modern technology & architecture & one can see a cluster of Singapore style buildings. The city has large & well laid out gardens like Gorky Park , Sokolniky Park etc.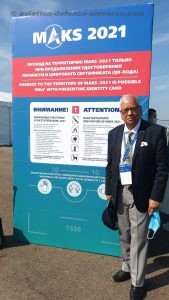 Next day was our first day of the exhibition MAKS 2021.It was located far away from the main city. On reaching the venue we were greeted by an array of helicopters , UAVs drones & aircrafts etc. -both commercial & defence -but mainly manufactured in Russia. The exhibit halls were lined up with the flags of various nations. It was nice to see that the Indian flag got a place of honor. The inauguration of the Exhibition was done on the morning of 20 th July by the President Vladimir Putiin , which indicates the importance of the event. An introductory tour of helicopters both for civil & military use was conducted by the experts of Russian helicopters. There were several variants viz fire – fighting, casualty evacuation, ambulance, VIP movement, personnel & cargo carriage, in various modes & capacity. The basic idea being to increase carrying capacity, range of operation, use of laser, digitization & other modern technology.
As far as helicopters for military use the leap in modernizing has been commendable. The development focused on weight reduction, increased range ,speed , accuracy in weapon delivery ,better wings 'design such as the use of composite material ,night vision devices ,anti -snow & frost, integrating the systems ,carrying of various type of weapon system viz canon, anti -tank , air to air & air to surface missile ,bombs etc ;thus making it more potent carrier of weapons to handle different types of threats. ADU uploaded five interviews of various experts. ADU also attended Press Conferences – which were not many -perhaps keeping Covid 19 in mind. There were impressive fly past by Russian aircrafts both civil & combat & the helicopters, which was the main attraction. Indian Air Force fielded Sarang aircraft which also presented a beautiful fly past. BRAHMOS was the only exhibitor (in the stalls) from India, or to be precise partially.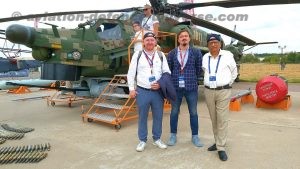 However, for ADU it was a good experience since we were the only journalist who didn't speak Russian & had the privilege of having Philip as a perfect interpreter! In the evenings we were busy writing articles on the events of the day & uploading these on our portal. But we managed to watch Moscow by night on a river cruise, which was awesome. Moscow is definitely a world city which has a history , churches galore , many inventions ,thinkers & writers in their fold who give us an insight into the doctrines of communism, its ills & advantages.
A word about the social fabric, being in Europe Russians have adopted the European attire , technology & style of living The womenfolk have equal status in the work place & have same status & salary. Akin to the western world divorce rate is also as high as 50 %. Some say that it is because of the financial independence of women. However, in the value system they appear to be like the Asians. The head of the family is kept at high pedestal by the women. As far as religion is concerned, earlier Russians didn't believe in any religion but lately Church got accepted & one can see a string of churches in Moscow. There pinnacles reminds one of Iranian or Muslim architecture.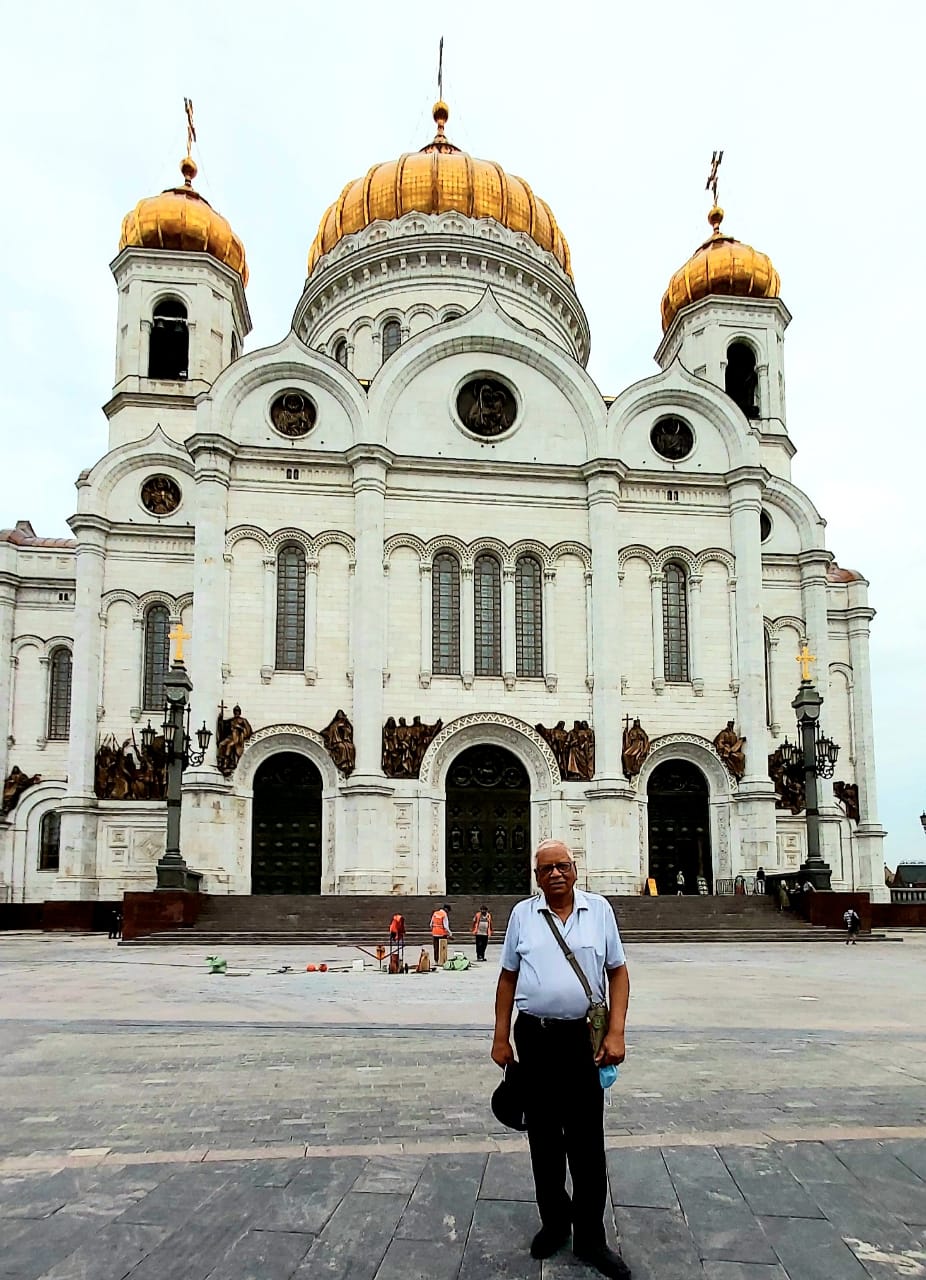 One can confidently say that Moscow is a city of churches. The church which impresses most is the Church of Remembrance. It has modern architecture , large hall ,which can house 10,000 people ,but no seating arrangement !On the side walls ,the church also displays various battles fought by the Russians with the names of the fallen soldiers engraved on large marble plaques. Moscow by night gives a magical & romantic look. There are many river cruise – budget & expensive – which showcase Moscow by night. Being a cold region ,where temperature during winter may record upto – 25 degree celcius everyone is a non vegetarian. Thus a vegetarian like the author have to survive on bread , fruits , juices & preparations from potato.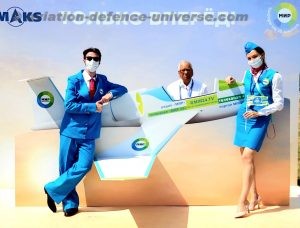 All in all a great city which for several years counter-weighed capitalism of the world. At the same time a country which is India's friend in need and indeed. MAKS 2021 gave an opportunity to ADU to make some new associations whom we wish to foster for ever. For further details do visit special section on ADU & read articles , watch video interviews & still pictures concerning MAKS 2021 .