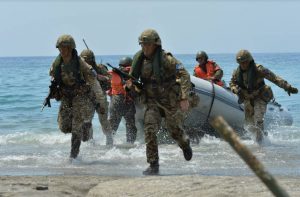 Istanbul. 30 May 2019. Turkey's national defense technologies were exhibited in EFES 2018 Exercise which was a planned exercise of Turkish Armed Forces . The soldiers were trained like they fight in the live-fire exercise which is carried out to improve the military means and capabilities of the joint headquarters formed with elements of invited countries and its troops in such a way that it covers all duties that may be possibly assigned and to maintain the level of readiness for war.
Elements of 19 friendly and allied countries participate in the exercise in mid-Aegean region, Izmir Bay and Doğanbey Fire Exercise Area in the Western Anatolia, the actual field of exercise. Air assault operation, amphibious operation and boat trainings have been carried out to date with the participation of friendly and allied country elements visiting our country for EFES 2018 Exercise.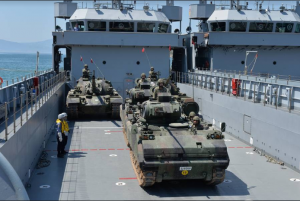 Within the scope of exercise continuing with the elements of friendly and allied countries under the administration of Aegean Army Command, a Defense Industry Exhibition was organized to host 35 Turkish defense industry companies which are also the participants of IDEF International Defense Fair. The exhibition was also visited by the representatives from USA, Azerbaijan, Bahrain, Bangladesh, Bosnia Herzegovina, Georgia, United Kingdom, Italy, Qatar, Kazakhstan, Kosovo, Hungary, Macedonia, Mongolia, Uzbekistan, Pakistan, Romania, Slovakia and Saudi Arabia that took part in the exercise with their troops and elements.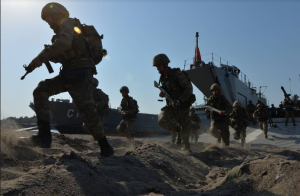 Bayraktar, the first and only national unmanned combat air vehicle (UCAV) in the TSK inventory, fired live ammunition for the first time in Efes 2018 exercise. Throughout the exercise, flights and fires were live-broadcast at the BAYKAR stand. In the exhibition in which VESTEL introduced its unmanned air vehicle Karayel and other product range, the press also had the chance to see Unmanned Amazon 4WD Armored Vehicle by BMC that can be used with a remote controller for the first time.
Exporting its military vehicles and tower systems of its own design and production to 5 continents other than Turkey, OTOKAR exhibited its COBRA II Hauling Armored Vehicle designed domestically and nationally.
With its rich portfolio, MKE introduced its bus systems and family of national infantry rifle while FNSS took part with its armored vehicle which are already in the inventories of TSK and other armies. FNSS drew visitor's attention with its Pars III 8WD armored tactical and wheeled vehicle.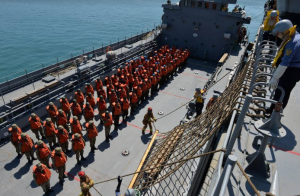 ROKETSAN with its national smart ammunition, ASELSAN and HAVELSAN with their state-of-art solutions attracted attention in the exhibition, and KATMERCİLER introduced its armored personnel carrier Khan, armored ambulance and Remotely-Controlled Fire Platform Ukap.
Specialized in blast-resistant structure design and production, OFM Engineering introduced its modular living space/shelter PADMER which survived the field tests following 3 years of intensive R&D process to representatives of Turkish Armed Forces and foreign military representatives.
Kuzgun, a tablet-based live image transferring system with end-to-end encipherment optimized for mobile communication networks and the national Geographical Analysis System (GAS) UAV Module developed with PiriReis Informatics company were exhibited in Efes 2018 for the first time.
Prominent companies of the defense industry such as TAI, KALE, METEKSAN, NUROL, SARSILMAZ, ÖZTİRYAKİLER, STM, MİLSOFT, BİLGEM, CTECH, ATEL, TDU, SDT, AVS, ÖZTEK, ONUR, UYAR GRUP, FOTONİKS, AKSU RUN, GÜÇLÜ, CES, NERO were also the participants of the exhibition.