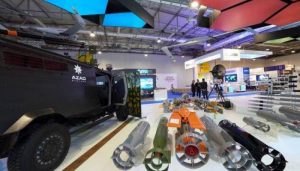 Azarbaijan. 02 May 2019. IDEF International Defence Industry Fair, which is being organized under the management and responsibility of Turkish Armed Forces Foundation (TAFF) since 1993, served for the purpose of promoting to the world and increasing international competitive power of national defence industry at the beginning.

IDEF 2019 will take place in Istanbul, Turkey from the 30 April to 3 May 2019. The world's leading defense industry companies are presenting their products and services at this exhibition. The exhibition is one of the important platforms with various foreign delegations.
Since 2009, Azerbaijan has been participating in such prestigious exhibitions to demonstrate local-made defense industry products. An extended delegation headed by Azerbaijani Deputy Minister of Defense Industry Yahya Musayev will take part in the IDEF 2019, 14th International Defense Industry Fair to be held in Istanbul on April 30 – May 3.
It should be noted that the export of defense products is one of the important directions of export of non-oil products in Azerbaijan. In accordance of the plan of measures for 2019, representatives of the Azerbaijani Ministry of Defense Industry are expected to attend various international exhibitions. Azerbaijan's pavilion at IDEF-2019 will mainly showcase export-oriented local-products.
The Azerbaijani delegation will also hold discussions with representatives of other participating countries on prospects for the development of military-technical cooperation, as well as possibilities of implementing joint projects.
Within the framework of the exhibition, Deputy Minister Yahya Musayev is expected to meet with representatives of the Turkish government and heads of several delegations attending the exhibition.