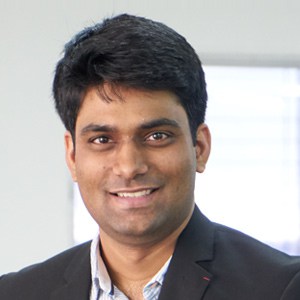 New Delhi. 15 October 2020. ideaForge is India's largest manufacturer of drones for defence, homeland security and industrial applications. Founded in 2007 by IIT-Bombay alumni, the organization has a consistent market share of over 90% in Security & Surveillance segment. The organization is a licensed manufacturer of UAVs approved by Ministry of Defence (MoD). Ankit Mehta Co-Founder & CEO an innovator at heart, who loves to solve problems and believes in implementing the right solution, no matter the origin traced his journey and presence in an exclusive interview with Aviation & Defence Universe (ADU).
ADU. In 2009, ideaForge created the world's smallest and lightest autopilot at 10gms along with the first indigenous small UAV. What has been the advancement of innovations since then?
AM. The SWITCH UAV and the RYNO UAV are excellent examples of how our drones continue to deliver industry-leading performance. The SWITCH is a mini-category drone (weighing less than 7kg) and it displays class-leading range, flight time, and overall performance parameters. Because of this, the SWITCH has been the frontrunner in the Indian Army's Infantry order which is one of the world's largest orders for mini-UAVs.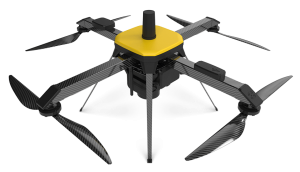 The RYNO UAV is a micro-category drone whose accuracy and flight performance rivals drones of higher weight categories. It is a survey-grade drone which enables cutting-edge mapping and land surveying capabilities in the micro category.
We are also continuously innovating on our flight software systems. With the introduction of the Moving Target Indicator (MTI), it is possible to autonomously detect moving objects and track their movements which is not easily visible to the naked eye. Another addition is the BlueFire Live!, which is a secured video streaming service. With this, users can share a live feed of their drone flight to designated people at any remote location, securely.
ADU. What is the design collaboration you have with DRDO as on date?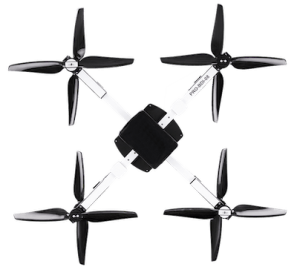 AM. ideaForge collaborated with DRDO to co-create India's first fully indigenous drone, NETRA. The drone's robust performance quickly catapulted ideaForge to become India's premier drone manufacturing organization. The project was won on the back of our development of the world's then smallest and lightest autopilot and the first Drone in India. Since then, ideaForge has continued to deliver class-dominating drones to fulfill the requirements of defence, homeland security and enterprise domains.
ADU. Which are the UAVs supplied by ideaForge to Indian defence forces? Are pre-supply training and maintenance post-delivery, a part of the contract?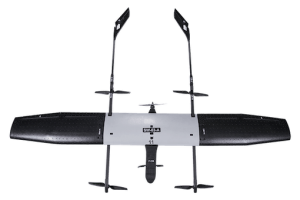 AM. Our entire product lineup is extremely popular with the defence forces with over 400 systems deployed till date. To name a few, our drones are used for high altitude border monitoring, anti-terrorist operations and counter-insurgency missions. In fact, we are the largest player in the security & surveillance segment of the Indian drone industry. We have comprehensive training programs with Standard Operating Procedures (SOP) which enables our forces to derive maximum value out of our products. We have a full-fledged after-sales team available across the country to ensure our drones are always mission-ready.
ADU. What is the business ideaforge has with the paramilitary forces like ITBP, BSF, CRPF and SSB? Please specify.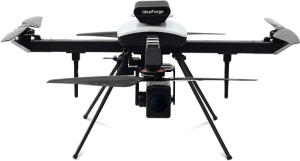 AM. Our drones have proven to be force multipliers and lifesavers for our Armed Forces. CRPF regularly and extensively utilizes our drones for anti-Naxalite operations. ITBP and BSF deploy our drones for border security, ISR missions and high-altitude patrolling.
ADU. Do you have the police forces of various states as your customers?
AM. Several police forces across the country have begun integrating drones with their existing setups. The police departments of Mumbai, Thane, Sangli, Nagpur, Punjab, Delhi, Himachal Pradesh, Rajasthan, Assam, Kolkata, Visakhapatnam and more have deployed ideaForge drones for urban surveillance and security applications.
In the wake of the coronavirus pandemic, our drones have proven to be extremely effective tools for law enforcement. Several police departments have been using our drone solutions to ensure social distancing guidelines are being followed. For instance, Mumbai Police, in particular, used them to ensure complete surveillance of lockdown sectors, like the Dharavi slums, in order to contain the spread of the virus. Birhanmumbai Municipal Corporation (BMC) deployed our drones to conduct live surveillance of hotspots like Dharavi by directly streaming the drone footage to a command & control center. Mumbai Police and Thane Police have deployed our Megaphone Drone to conduct real-time surveillance and make live public announcements to issue government guidelines and social distancing norms. Delhi police used thermal imaging payloads for night-time surveillance to identify lockdown violators. Sangli Police have deployed our drone to conduct surveillance of areas that are not covered under the CCTV network.
ADU. Have you got tailor-made products for disaster management? Please elaborate.
AM. The NETRA PRO is a highly specialized drone, which is invaluable in disaster management and relief operations. It is a heavy-duty drone with superior flight time and range and has a dual-payload setup to conduct live surveillance to locate survivors and deliver food packets and emergency medical supplies.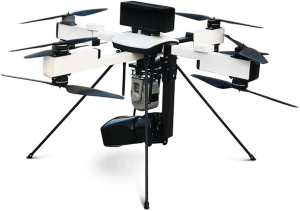 Our new Megaphone Drones is also armed with a dual-payload setup – an HD camera and a Megaphone. This has tremendous applications in disaster management as you could make live announcements; you could give people directions to get to safety till help can be sent to them and even give first aid instructions remotely if needed.
ADU. What is your clientele in the civil aerospace both in India and abroad and which products are being used by the airports?
AM. NA
ADU. What is the status quo of your international business?
AM. There is a lot of interest from international clients to acquire ideaForge drones to drive their industrial operations such as land surveying and mapping, volumetric estimations, linear assets inspections and management, security and surveillance, and more.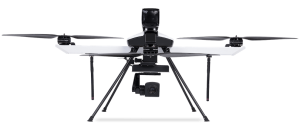 As the presence of drones in large industries is growing, more and more professionals are realizing the advantages of using these aircrafts for their purposes. As a result, we expect the interest in ideaForge to continue to grow.
ADU. Do you have partnerships with governments and industries abroad?
AM. We are on a mission mode to leverage our accomplishments in India to form partnerships abroad.
ADU. Is your supply chain totally Indian?
AM. Yes, our drones are completely made in India. We produce all our drones indigenously, with a network of component and raw material suppliers. We are proud to be working towards an Atmanirbhar Bharat, and we aim to strengthen and expand this network of drone-tech suppliers in India in order to establish a world-class drone industry in our country.
ADU. How strong is your R&D force and are you helping incubators and startups in the UAV sector? Do you have collaborations with academia?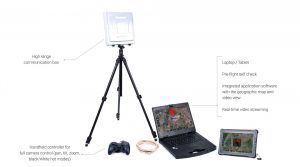 AM. Our drones are being adopted by educational institutes to provide experiential learning to their students. Most significantly, drones can be extremely pivotal tools for educating students in industry-grade mapping and land surveying techniques. With specialized knowledge and skills like PPK surveying, 2D mapping, 3Dterrain mapping, cloud-point generation etc. students can be industry-ready by the time of graduation, and their careers will find a good springboard to launch from.
For example, the CAD Centre at Jadavpur University has acquired ideaForge's NINJA UAV as part of lab equipment. Dr Basudeb Bhatta, HOD of the CAD centre, believes that it is essential for students to have expertise in skills that are relevant to the way industries function today such as flight planning and management, remote sensing, various data-processing and GIS software, and knowledge of different payloads and their capacities.
Our clients in the education sector include Maharana Pratap University, Savitribai Phule Pune University, JSPM's Jayawantrao Sawant College of Engineering.
ADU. What are your future plans both long term and short term?
AM. We are leaders in the security & surveillance segment of the Indian drone industry and aim to further strengthen our position. We are seeing tremendous potential in the domains of security & surveillance, surveying & mapping, and precision agriculture, both in India and abroad. We have created vantage points to realize and lead the growth potential in each of these domains.