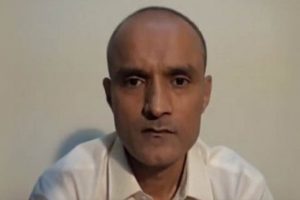 Pakistan's response leaves much to be desired
By JK Verma
New Delhi. 21 May 2017. On May 18 the International Court of Justice (ICJ) issued a historic verdict that Government of Pakistan must take "all necessary measures" so that Kulbhushan Jadhav is not executed. The ICJ also instructed that Pakistan should also inform about the measures it took to implement the verdict of the honourable court. It is vital because Pakistan has denied the consular access to Indian High Commission hence Indian side is not aware about the present condition and whereabouts of Jadhav. Unfortunately ICJ order did not mention the time frame under which Pakistan should report back about the compliance of the order.
India approached ICJ against Pakistan on May 8, about the violation of Vienna-Convention about Kulbhushan Sudhir Jadhav an innocent Indian National who was kidnapped by ISI sponsored Sunni terrorist group Jaish ul-Adl from Iran and sentenced to death by Field General Court Martial (FGCM) on April 10, 2017. Military controlled Inter Services Intelligence (ISI) fabricated the documents, which contained several contradictions. However when it could not collect any credible evidence the Kangroo court awarded the death sentence, within three and half months trial, just on the basis of admissions obtained from him under coercion.
The FGCM alleged that Jadhav was a serving naval officer and was fomenting terrorist activities in Pakistan especially in Balochistan and Karachi and he was arrested in Balochistan on March 3, 2016 when he entered illegally from Iran. The ICJ agreed with India's contention that the court has jurisdiction over the case and the bilateral agreement of 2008 does not infringe this right. It also nullified Pakistan's viewpoint that consular access can be denied to Indian High Commission as Jadhav was involved in espionage and subversion. In this way India achieved the much needed temporary relief by the highest court of United Nations. Pakistan denied India consular access although Indian High Commission demanded it 16 times which is deplorable.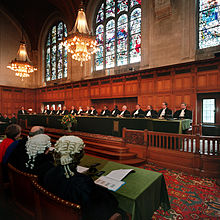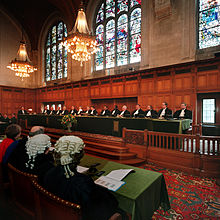 The death sentence, denial of consular access, secrecy and speedy trial in the case of Jadhav indicates the struggle going on between civil and military establishments in Pakistan. Army wants to show to the masses that Indian agents are involved in secessionist and sabotage activities in the country and they were able to arrest a serving Indian Naval Officer who was working on behest of Indian intelligence agency and was assisting separatist elements. In this way Pakistani army has also sabotaged future efforts of civilian government to inculcate cordial relations with India.
In the present scenario India was compelled to approach ICJ and face Pakistan after lapse of 18 years. Indian team was led by top legal luminary Harish Salve who presented case in a forceful manner and procured much needed relief. Salve went to Hague when ICJ was not in session and convinced the United Court's registrar by his powerful arguments about the urgency of the case.
The eleven members bench of ICJ unanimously decided that court has the jurisdiction as both the countries are not only the members of UNO but also signed the Vienna Convention on Consular Relations of April 1963. The ICJ further observed that Pakistan cannot execute Jadhav before the final decision of ICJ which is expected to come in August 2017. The ICJ verdict also exposed Pakistan's fictitious judicial system.
Ministry of External Affairs spokesperson Gopal Baglay stated that "ICJ order is unanimous, favourable, clear and unambiguous". He also emphatically mentioned that it is binding on Pakistan. Nonetheless Pakistan has refused to accept the current judgment of ICJ and  Pakistan Foreign Office spokesman  Nafees Zakaria alleged that " The real face of India will be exposed"  and he further stressed that now "Pakistan will present solid evidence" against Jadhav.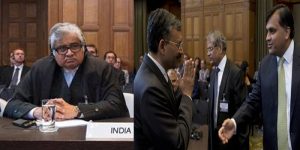 The decision to take the case in ICJ also indicates the firmness of present government and to obtain the interim order in favour of Jadhav is a big diplomatic and legal victory of India. Although several policy planners were of the view that ICJ cannot enforce its decisions hence there is no use appealing there as it is against India's stand that the disputes between India and Pakistan should be resolved bilaterally. Now Pakistan may also take the case of Kashmir in International Organisations. But the interim order of ICJ was totally in India's favour and it strengthened the stand of present government.
Nevertheless it is only a temporary relief as there is no mention when consular access will be given to India secondly India has not only demanded consular access it asked for termination of death sentence awarded to Jadhav through "farcical" trial by Military court. Although the decision of ICJ is binding but the court has no mechanism to implement its judgments. If Pakistan disobeys the judgment India can approach to UN Security Council but there China being a permanent member would come for Pakistan's rescue.
There are instances where the judgment of ICJ was not implemented. US has flouted ICJ judgment twice and Pakistan has also not clarified that it will obey the orders of the court. India cannot rejoice much as Jadhav is still languishing in Pakistani Jail and his life is still in danger.
But if Pakistan flouts the verdict of ICJ it will further isolate Pakistan in international arena and its credibility will erode. United Nations would take stringent action and several countries would impose economic sanctions which would be detrimental for its crippling economy.
On the other hand India will also get a chance to flout Indus Water Treaty which is unduly in favour of Pakistan.
The hard-hitting ICJ verdict created a debate in Pakistan and most of the newspapers criticised government for presenting a "weak" case as Pakistani lawyers could not avail the 90 minutes time allotted to give the arguments. The media also mentioned that Khawar Qureshi was not a right choice to plead Pakistani case. Legal experts also claimed that Pakistan should not have accepted the ICJ jurisdiction and it should not have attended the case. Pakistan had right to nominate one person as an ad hoc judge, India availed the option while Pakistan failed to nominate.
The world is also viewing the reaction of Iran as Jadhav was kidnapped from Iran and sent to Balochistan illegally. Iran government has mentioned that it is conducting an enquiry and report would be submitted to friendly countries.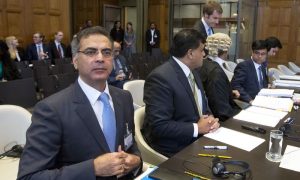 Meanwhile Pakistan in an official report to the ICJ judgment through a Press Release of The Attorney General's Office on 18 May stated, " As far as Pakistan is concerned, the Court's decision today has not changed the status of Commander Jadhav's case in any manner. In our submissions on 15 May, we had assured the Court unambiguously that Commander Jadhav would be provided every opportunity and remedy available under the law to defend his case. Commander Jadhav still has ample time to petition for clemency. To recall, we had in our presentation on 15 May, proposed to the court that a final hearing be held on the merits and maintainability of the case as early as possible. We are determined to pursue this case to its logical end."
The case in ICJ does not prohibit the bilateral negotiations between both the nations. It is visualized that both the Prime Ministers would be meeting in the sidelines of Shanghai Cooperation Organisation (SCO) summit scheduled to be held in Astana on June 8-9. Both the Prime Ministers can discuss about Jadhav including his release on humanitarian ground. Although the chances are remote as the death sentence was awarded to Jadhav from military Court and civilian government cannot act against military regime.
 (Jai Kumar Verma is a Delhi-based strategic analyst and a retired R&AW officer. The views in the article are solely the author's. He can be contacted at editor.adu@gmail.com )