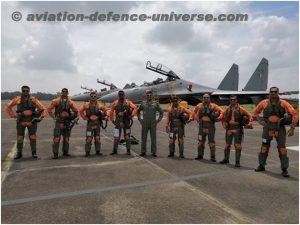 New Delhi. 23 August 2018. Ex Pitch Black, a biennial multi-national large force employment warfare exercise was hosted by Royal Australian Air Force (RAAF) from 24 Jul 18 to 18 Aug 18 in Darwin, Australia. After successful participation, IAF contingent de-inducted from Australia and in the return leg carried out a bilateral exercise with Royal Malaysian Air Force from 20 – 22 Aug 18 at Subang Air Base, Malaysia.
The exercise encompassed interactions, discussions & exchange sorties with the Royal Malaysian Air Force (RMAF). The RMAF crew flew in the IAF Su-30MKI & IAF crew got an opportunity to fly in RMAF Su-30 MKM aircraft. This was the first time that both the forces had come together and undertook flying operations. The C-130 crew of IAF & RMAF also interacted with each other and shared various operating methodology and good practices.
On completion of the exercise, the IAF team comprising of 145 air-warriors, 04 X Su-30 MKI, 01 X C-130J and 01 X C-17 landed on the Indian soil on 23 August 18. IAF's participation in Ex Pitch Black along with bilateral exercises with Indonesian and Malaysian Air Force provided an excellent opportunity to all the participants to operate in a multinational environment and take home some of the best practices followed by Air forces around the world. High serviceability of assets and professionalism of IAF personnel during five weeks exercise with Air Forces of 16 different nations won accolades and appreciation from all the participants.