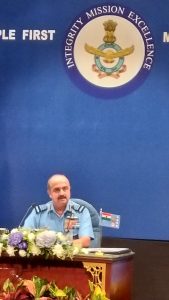 IAF is prepared for a two front war
Strength of 42 squadrons does not seem a possibility in the next decade
S-400 should be inducted by the year end
By Sangeeta Saxena
New Delhi. 05 October 2021. "The situation on the Line of Actual Control is that the Chinese Air Force PLAF  is still present on three air bases on their side of the LAC. We are fully deployed and prepared on our side. We're fully prepared to deal with any situation. We need to keep in mind that while they have built airfields and hardened their shelters, they have the huge penalty of high altitude. That will be a weak area for them," strongly stated the just become Indian Air Force Chief, Air Chief Marshal Vivek Ram Chaudhary. He was addressing the media at the annual press conference ahead of the 89th Air Force Day.
He also reiterated that Indian Airforce is completely capable of handling a two front contingency and China-Pakistan friendship should not be a point of worry for India.  "There is nothing to fear from this partnership. But the only worry is western technology passing from Pakistan to China," CAS  said.
He added that India is not worried about the airfields in Pakistan-occupied Kashmir (PoK) . "With regard to airfields in Pakistan and PoK, we don't need to be much alarmed as they are small strips capable of taking on a few helicopters. The one towards the Afghan border is probably for rescuing their own people from Afghanistan," he explained.
Responding to a query on Taliban forming an airforce, the IAF Chief quipped that Taliban putting together an AirForce is a threat to IAF is a little far fetched.
Answering a question on integrated theatre commands, he stated, "Theatreisation needs to be done keeping in mind future warfare. Strength of each service should be synchronised with the combat capacity of the nation. Doctrines and strength of each service need to be kept in mind. We are hopeful that the ultimate structure that will emerge will cater for joint planning and joint operations in future. To be able to go singularly into any battle is not possible. We need the support of the other two services. It is true for all services. It is not that just IAF is a support arm, the army also at times has to support IAF in air operations."
But what is probably the most important information disseminating from this press conference was that the 42 squadron strength will not be possible in the next decade. "The four Light Combat Aircraft (LCA)-Mk1A, six squadrons of the Advanced Medium Combat Aircraft (AMCA) and six Medium Role Fighter Aircraft (MRFA), and then factoring in the phaseout, it will remain at 35 squadrons in the next decade. There is no scope for increment as of now," he responded to a question on by when will the IAF reach the magical figure of 42. Should this be a cause of worry to the IAF?
The IAF Chief also gave an information for which was long awaited. Responding to questions, he remarked that the first S-400 regiment should be inducted within this year. Asked if the requirement of fighter jets could be offset by the long range S-400, he explained ,"we need a balance of strike aircraft which can penetrate deep into enemy territory to deliver ordnance."
The IAF chief explained that the next decade will see the phasing out of four squadrons of the MiG 21 Bison, Jaguar deep penetration aircraft, Mirage 2000 and the MiG 29s.
Air Chief Marshall VR Chaudhary is happy with the strength and stealth of the IAF ."The induction of Rafale, Apaches have significantly added to our combat potential. Our offensive strike capability has become even more potent with the integration of new weapons on our fleets. With the coming induction of 83 Tejas Mk1A and S 400, the air force will be even stronger," he said. Deliveries of the Tejas will start from 2024.
On the front of 114 medium combat aircraft, the IAF chief said the response to the Request for Information (RFI) has been received and it will definitely be under Make in India not confirming whether it would under Strategic Partnership model. It may be recalled that Lockheed Martin's F-21, Boeing's F/A-18, Saab's Gripen, Dassault Aviation's Rafale, the Eurofighter Typhoon and Russian MiG 35 have all pitched .
The IAF chief said the force is committed to the Advanced Medium Combat Aircraft or the AMCA. The AMCA is a twin-engine jet being developed by the DRDO. "The requirement of our 5th generation fighter aircraft will be met by the AMCA (indigenous fifth generation aircraft) being developed by DRDO and will match the capability of the country across the border," he said. AMCA prototype will roll out in 2024 and first flight is expected in 2025-2026.
He also informed that IAF has hardened it's networks to avoid cyber attacks. Adequate safeguards are being taken to protect it's critical infrastructure. In addition the Air Chief was also very optimistic about indigenous manufacturing of swarm drones and anti-drone systems. He also added that IAF was also strongly thinking of directed energy weapons, hypersonic weapons and manned-unmanned teaming.
It may be recalled that IAF has already achieved a major milestone in network centric operations through the IACCS (Integrated Air Command and Control System). Building on that, it has been further upgrading and hardening their networks to counter cyber threats and ensure robust and redundant Command and Control, decision making structures that can handle any air battle.
Also a leading Indian IT firm has developed an electronic maintenance management system (e-MMS) which has details of all flying platforms of the IAF. Virtually this is the world's largest such maintenance monitoring system and the Chief is positive about achieving enhanced automation and paperless work flow.