Impasse in MMRCA led to off the shelf purchase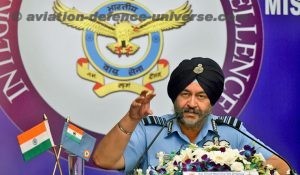 By Sangeeta Saxena
New Delhi. 03 October 2018. Rafale hijacked the agenda at the annual press conference of the Indian Air Force Chief ahead of the 86th  AirForce Day. Air Chief Marshal BS Dhanoa said, "We had reached an impasse in MMRCA. We had only three options – Wait and hope for the best, withdraw the RFP and start all over again or do an emergency purchase. Rafale will be a game changer in the sub continent…We have got a very good package. It has got the best sensors, advanced weaponry."
Trying to put to rest the controversy over the price of the jets, Dhanoa said the Cost Negotiation Committee had finalised the price after due consideration. "It's not simply possible that the new cost would be higher than the cost finalised earlier," he said.  He also reiterated that the government's decision to buy 36 Rafale fighters from France in a government-to-government deal was a bold step to scale up the IAF's capabilities, and called the warplane a game-changer and a booster dose for the sagging strength of the force. "We have got a good package, got a lot of advantages in Rafale deal," he added.
He stated that the Air Force has got the most modern censors, state-of-the-art weapons, India specific enhancements, better price terms, better delivery time schedules, better maintenance terms, longer industrial commitment terms and additional warranty.
Responding to a question on LCA being an option the Chief said, "LCA Tejas is not in the same category as MMRCA. However, we have reposed our faith in the LCA, ordered 123 in different variants." He elaborated that the Indian Air Force (IAF) plans to acquire a total of 239  LCAs making it 12 squadrons of  Tejas aircraft.  These will include LCA Mark-1 and  Mark-2.
Answering  a query whether the Air Force was consulted before going ahead with the government to government deal to buy 36 Rafale jets, CAS  said, " IAF was consulted at an appropriate level."
He said the medium multi-role combat aircraft deal to buy 126 aircraft, where Rafale was the lowest bidder, had reached an "impasse" due to "irresolvable differences" between HAL and Dassault Aviation over HAL's additional man hours in production of the aircraft and the resultant cost increase.
Dhanoa categorically stated, " I place on record my appreciation  for the help HAL provided during exercise Gagan Shakti. However, there has been slight lag in delivery  schedule of HAL.  Sukhoi-30 is 3 years behind, Jaguar upgrade 6 years behind, LCA 5 years behind, Mirage-2000 2 years and HPTT-40 4 years behind schedule. The IAF currently has 31 squadrons as against the 42 mandated by the government for a two-front war. So the G to G purchase will add two squadron strength without delay."
"As far as politics around Rafale is concerned, I will not comment. All that I can say is it's a very good aircraft. And when it comes into the subcontinent it will be a game changer because it has got significant capabilities better than what our regional adversaries have got. And it will also take care of the new aircraft they are likely to induct in the near future," he said.