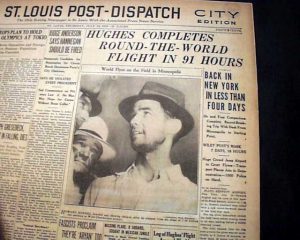 Remembering aviation history's landmark event
New Delhi. 10 July 2021. On 10 July 1938, Howard Robard Hughes Jr the owner of the Hughes Aircraft Company set out to create a record and did so by completing a flight around the world in just 91 hours (three days, 19 hours, 17 minutes) beating the previous record set in 1933 by Wiley Post in a single-engine Lockheed Vega by almost four days. Hughes returned home ahead of photographs of his flight. Taking off from New York City, Hughes continued to Paris, Moscow, Omsk, Yakutsk, Fairbanks, and Minneapolis, then returning to New York City on 14 July 1938.
For this flight he flew a Lockheed 14 Super Electra (NX18973, a twin-engine transport with a four-man crew) fitted with the latest radio and navigational equipment. Harry Connor was the co-pilot, Thomas Thurlow the navigator, Richard Stoddart the engineer, and Ed Lund the mechanic. Hughes wanted the flight to be a triumph of American aviation technology, illustrating that safe, long-distance air travel was possible.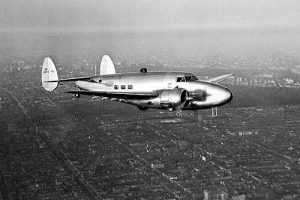 Albert Lodwick of Mystic, Iowa, provided organizational skills as the flight operations manager. While Hughes had previously been relatively obscure despite his wealth, was awarded the Harmon Trophy in 1936 and 1938 for the record-breaking global circumnavigation.
Hughes formed the Hughes Aircraft Company in 1932, hiring numerous engineers and designers. He spent the rest of the 1930s and much of the 1940s setting multiple world air speed records and building the Hughes H-1 Racer (1935) and H-4 Hercules (the Spruce Goose, 1947), the latter being the largest flying boat in history and having the longest wingspan of any aircraft from the time it was built until 2019. He acquired and expanded Trans World Airlines and later acquired Air West, renaming it Hughes Airwest. Hughes won both the Collier and Harmon trophies for his achievements in aviation throughout the 1930s, and was inducted into the National Aviation Hall of Fame in 1973. He was also included in Flying magazine's 2013 list of the 51 Heroes of Aviation, ranked at No. 25.