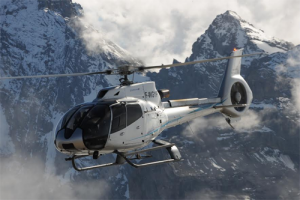 New Delhi, 20 April, 2017 – Heritage Aviation  announced the addition of two new state-of-the-art Airbus Helicopters' H130 aircraft in its fleet. These helicopters will strengthen the company's position as a leader in passenger transportation missions including heli-pilgrimage, aerial work and VIP transportation missions in India.
The two H130s will complement Heritage Aviation's existing fleet of two H125 helicopters which were inducted in 2015 from Airbus Helicopters. Both the helicopters will be delivered with seven passenger seats and one of the aircraft will be fitted with cargo swing equipment to carry external load for aerial work missions.
"The H130 allows great versatility to perform all kind of missions in the most demanding hot and high environments. We eagerly await the delivery of these stunning machines to expand our heli-pilgrimage and aerial work services. Specially configured to our needs, these H130s will help us achieve our expansion plans in a sustainable manner." said Rohit Mathur, Director at Heritage Aviation Private Ltd.
"We at Airbus are committed to ensure complete support and services to Heritage Aviation, which has grown at a fast pace in the Himalayan region. Heritage placed their helicopters under the Hcare support program which maximises fleet availability. We are honoured that Heritage Aviation has continued to put their faith and trust in our platforms," said Xavier Hay, President, Helicopters, Airbus in India.
Airbus Helicopters' lightweight multi-role H130 has a spacious cabin for one pilot and seats for up to seven passengers. The H130 is the largest and most spacious of any single-engine rotorcraft in the world – yet the quietest in its category, thanks to the Shrouded Fenestron® tail rotor and the equipped Anti Vibration Control System (AVCS).
The flat cabin floor enables easy and quick role change for mission flexibility, thus making the H130 suited for a wide range of missions, including passenger transportation, sightseeing, medical airlift, law enforcement and search and rescue. Powered by the Arriel 2D engine, the H130 is a proven machine and is a global reference among single engine helicopters, having demonstrated its capabilities in a variety of missions around the world. The H130 has been a successful platform in the high and hot South Asia environment with more than 15 H130s currently flying in this region.
The H130 comes from the proven Ecureuil family of Airbus Helicopters. More than 6,000 Ecureuil helicopters have been delivered till date, clocking more than 30 million hours of flight time in various missions including HEMS, passenger transport, law enforcement, etc.