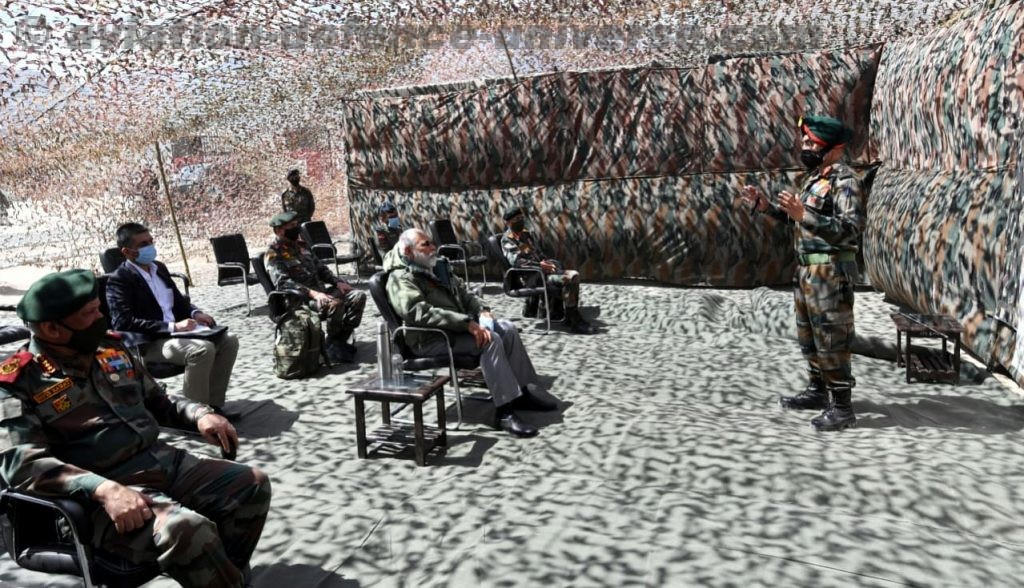 By Col NB Saxena(Retd.)
New Delhi. 07 September 2020. Three dates which stand out in Sino-Indian relations for creating documents between the two neighbours for maintaining peace and tranquility at Line of Actual Control are 7th September 1993, 29th November 1996 and 23rd October 2013. Agreement on the Maintenance of Peace and Tranquility along the Line of Actual Control in the India-China Border Areas, Agreement Between the Government of the Republic of India and the Government of the People's Republic of China on Confidence-Building Measures in the Military Field Along the Line of Actual Control in the India-China Border Areas and Border Defence Cooperation Agreement between India and China, all three documents for China have only been bilateral decisions not to be followed. History will confirm this fact.
The skirmish between Indian and Chinese troops on 29th August 2020 shall prove a mile stone in the thinking of military and strategy planners of India. The incident seemingly very small and normal will have a long lasting impact in Indo-China relationship. This event had genesis in the Galwan incident which took place on 15/16th June 2020 night where Indians troops were taken by surprise by Chinese who attacked 16 Bihar Regiment patrol party with sticks and batons. The result was 20 Indian fatal casualties and by an estimate about 35-40 Chinese casualties. This incident left Indian Army fuming and dissent among troops on LAC for not allowing weapons and taking offensive action against Chinese as per agreement done under UPA government.
If murmurs in the corridors of South Block are to be believed then, this message was conveyed to Prime Minister which led to the sudden visit by PM to forward area of Leh – Laddakh to re-impose confidence in troops. PM was briefed by the commanders suggesting the measures to defend the LAC from DBO to Pangogtso which is more than 300 Km stretch. They demanded more troops explaining the requirements of defensive deployment . PM in his speech to troops at Leh gave this indication by citing the example of Shree Krishna having both "Bansuri and Sudarshan Chakra" in his hands. In short this visit rejuvenated Indian Forces deployed at Leh – Laddakh leading to plan and execute the "Offensive Defensive" strategy.
Rest is history. The offensive mountain Corps and SFF Bde were moved and tasked to occupy the important heights of Helmet, Black Top, Rinchin Ridge line in Thakung area thus dominating Pagongtso, Spangoor Tso, Chushul, Rezangla and the gaps in southern Pangong Tso lake area. This also exposed Chinese deployment at Mago and their movements to any other place. This Indian Army action had the desired effect and the post incident analyses shows three types of reactions One in the international Community, Second in the Indian Public & Forces and Third in the Chinese public and PLA mindset.
The international community especially the Chinese detractors and Indian neighbors regain confidence in India that she can stand tall against China. USA and other western world understood that India is emerging as the Asian leader and she can be the best bet in countering the Chinese expansionist regime. In fact the fence sitter neighbors have started rethinking and reformat their strategy which was till now tilting towards Chinese because of their monetary support and military might. This small incident has given them confidence to come in support of India.
Indian public and forces at large were feeling frustrated and suffocated as the casualties in this defensive posture against China and uncontrollable Pakistan supported terrorists were increasing. The government was also under great pressure because of unwarranted questioning by opposition parties which was leading to motivate home grown anti India lobby. This small skirmish made the normal India to feel proud and repose confidence in the governmentt which can repay Chinese in the same coin. As far as Indian Forces are concerned they have started feeling free to respond in the right time and space to counter Chinese actions whenever required. A message has gone down to the troops level that now India is not what it was there for last seventy years taking everything lying down in the name of peace. India today can talk to Chinese from the point of strength.
The third and final message which has gone to China has totally upset their philosophy of dubious intent of talking peace and hitting from behind. The deployment of SFF having largely the Tibetans owing allegiance to their leader Dalai Lama has sent chill in the spine of Chinese. This has boosted the moral of Tibetans staying back in Chinese occupied Tibet to reunite and think of their independent land. A new hope has emerged among all the Tibetans across the world that now is the time when India has openly started supporting their cause. Chinese are scared that this shall cause unrest among the population of Tibet and also encourage the ughir Muslim community to counter Chinese atrocities among them. The PLA which has enjoyed the no or very less resistance till now is finding difficult to counter Indian forces offensive might. PLA has realized that on ground the PLA soldier is no match to battle hardened Indian soldier. In general the Chinese public and veterans has started showing their resentment over their casualties and no recognition by their govt.
This incident shall be the water shed moment in India – China relationship from where the Chinese shall also start fearing that India might reclaim her lost territory in 1962 war in due course of time and might thwarter their CEPEC plan leading to economic, strategic and reputation loss in the eyes of the world community.