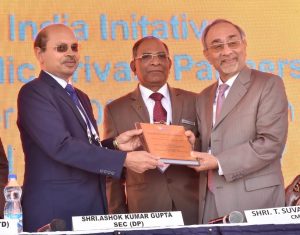 Bangalore.  February 15, 2017. HAL Chairman applauded Samtel HAL JV's efforts for Make in India at an event held at AeroIndia 2017 in Bengaluru. During the function Mr. Satish Kaura, Chairman Samtel Group handed over 1000th multi function display toMr. T Suvarna Raju, Chairman, Hindustan Aeronautics Ltd (HAL). The event was chaired by Hon'ble Secretary Defence Production Sh. Ashok Kumar Gupta, who presented a Certificate of Appreciation to Mr. Kaura, during the ceremony.
In a major milestone for 'Make in India' and indigenization program in the defence sector, Samtel HAL Display Systems (SHDS), a joint venture between Samtel Avionics Ltd. (SA) and Hindustan Aeronautics Limited (HAL), has accomplished the landmark of supplying 1000 units of indigenously manufactured Multi Function Displays (MFDs) to HAL for induction into frontline Sukhoi30 MKI aircrafts.
The proud accomplishment implies that now out of a planned fleet of 272 Sukhoi aircrafts with the Indian Air Force, 143 would be flying with India-made MFDs – a critical component of an aircraft cockpit.It may also be known that SHDS is the only company to receive CEMILAC (Centre for Military Airworthiness and Certification) Type Approval for MFDs in India.
The Samtel-HAL joint venture was set up in 2007 to address the avionics requirements including Test Benches and Systems for all IAF star platforms – both fixed and rotary wing. The journey began in 2004, when Samtel signed the contract with Defence Research Development Organisation (DRDO earlier called as DARE) for technology development of Su-30 MFDs. After 5-6 years of arduous efforts, Samtel was able to fully develop the technology and it was envisaged by HAL and Ministry of Defense (MoD) to create a centre of excellence in the form of JV to nurture this home grown technology. Samtel as a parent company would bring in this technology for lateral deployment on all platforms namely Su-30, Light Combat Aircraft (LCA), Intermediate Jet Trainer (IJT), Light Combat Helicopter (LCH) etc. and HAL as the other parent would bring in the market for using these displays on all HAL star platforms.
It may be noted that apart from Samtel, 'ruggedisation technology' is available only with 6-7 companies worldwide. This successful indigenization has reaped major benefits for the country; some of which include – Competitive price; significant reduction in turnaround time; Reduction in field defects; considerable reduction in lifecycle MRO cost; and continuous improvements of these MFDs as per IAF needs.