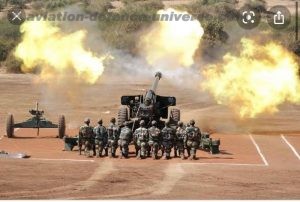 By Maj Gen (Dr.) PK Chakravorty (Retd.)
New Delhi. 24 September 2021. The pandemic has interfered with all big gatherings and raising Days. This has impacted all ceremonial events and gatherings for more than 500 days. All these would be celebrated with lesser numbers and social distancing. Accordingly the Gunners Day would be celebrated would be a small celebration.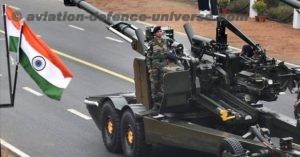 Historical Perspective
The Regiment of Artillery celebrates its raising day on 28 September annually. The date of raising is related to the raising of the Royal Indian Artillery as a part of the Bombay Presidency which occurred on 28 September 1827. The organisation was named as 5 Bombay Battery and they soon prepared themselves for a role in the mountains. They participated in the first Anglo Afghan war which took place from 1839 to 1842. Thereafter the Regiment participated in both the World Wars and in all the Wars post independence. Artillery is the second biggest arm, next to the infantry and has proved its mettle in all operations including Counter Insurgency actions in Jammu and Kashmir as also in the North East. Currently a number of units are deployed in Eastern Ladakh to stand up to the recent Chinese border clashes. Professionally the arm has provided Firepower in all operations with Elan, Pride and Military Precision. The Regiment having completed 194 years is currently undergoing a process of modernisation which would ensure that state of the art equipment is inducted to enable the Regiment to undertake operations in the 21st century against its adversaries. Having spent these glorious years it would be pertinent to take a reality check on aspects concerning the arm which is aptly referred as the King of the Battle. It is pertinent to note that while Guns are the colours, the ammunition is the weapon and it is a combination of these two that causes devastating effect at the target.
Current Situation
The nation is facing at this juncture security challenges at the Line of Actual Control. It is to India's credit that she has been able to convince all countries of the World on the incorrectness of the present statements by our Northern and Western adversary. Never the less rhetoric of our adversaries has to be taken seriously as they have stated their ability to escalate the situation if the need arises. In such a situation India has to be prepared for a two front conflict. As correctly appreciated the conflict could be in multiple domains. Artillery remains an important Arm irrespective of the domain of Warfare. It is heartening to note that Artillery continues to modernise at a deliberate pace thereby improving the Manoeuvre and Firepower capabilities of the Indian Army.
Artillery shapes the Battle Field. Therefore it is essential for the Artillery in the current Battle Space to provide Surveillance and Reconnaissance resulting in Target Acquisition which would lead to engagement of targets. There is also a need to monitor and undertake Post Strike Damage Assessment and ensure that the target is destroyed. In the current environment, Artillery degrades enemy's war waging capability, destroys his field defences, communication sites, logistics echelons thereby paralysing him and thus accomplishing our mission.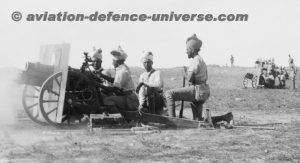 At present it is equipped with a variety of surveillance devices, Guns, Mortars, Rockets and Missiles. The surveillance devices are a part of the Surveillance and Target Acquisition (SATA) Regiments. The devices currently held comprise the Unmanned Aerial Vehicles (UAVs) which are of four types. These are the Medium Altitude Long Endurance (MALE), Heron UAV and Short Range UAVs Searcher MK I, Searcher Mk II as also four indigenously built Nishant. These UAVs have been operationally optimised and they are an extremely useful tool of surveillance. Our current holdings are minimal and their numbers need to be enhanced. The DRDO is currently developing a MALE UAV Rustam which will possibly be inducted in the short term. Reports indicate that UAVs are moving under the Aviation Arm of the Indian Army. In any case the surveillance centres are still under Artillery and they will report to them. Further the transfer would take some time. Being state of the art weaponry, it would take some time for a comprehensive handing over of the device. It is possibly under consideration as Artillery
The SATA units are currently equipped with Medium Range Battlefield Surveillance Radars (MRBFSR) and Weapon Locating Radars (WLR). The MBFSR is able to detect tanks, vehicles and troops. They are held in minimal quantities and been exploited by mobile masts. The WLR currently held is the ANTPQ-37 which has been optimised with a reasonable degree of success. Further SATA units are equipped with Long Range Reconnaissance and Observation System (LORROS). This equipment has excellent day and night surveillance capability and has proved its effectiveness in operational areas. The SATA units also have a passive weapon locating system known as Sound Ranging. The system currently held is old and needs to be replaced by state of the art equipment. Bharat Electronics in conjunction with DRDO has developed a Weapon Locating Radar which has undergone evaluation trials and is inducted Currently there are reasonable number of WLRs and six more are being inducted.
As regards Guns the Regiment is equipped with a wide variety of Guns. The Field Regiments possess either 105 mm Indian Field Gun / Light Field Gun or 122mm Field Howitzer. The Medium Regiments possess 130 mm Medium Guns, 155 mm Bofors Medium Gun (39 calibre) and a few regiments of 155 mm (45 calibre) Soltam Guns. The Self Propelled Regiments are equipped with 130 mm Catapult and the Light Regiments are equipped with 120 mm Mortars.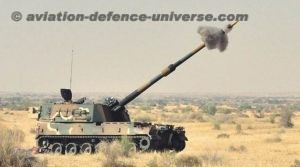 The Regiment also hold Rockets and Missiles. The Rocket Regiments are equipped with 122 mm GRAD BM -21 rockets, 214mm Pinaka Rockets and 300 mm Smerch Rockets. The Missile Regiments are equipped with the Super Sonic Cruise Missile BrahMos which has a range of 290 km. Recently India has joined the Missile Technology Control Regime which has resulted in trials for extending the range up to possibly 400 Km.
The Regiment has inducted 155 mm (45 calibre) Dhanush Gun systems manufactured by the Ordnance Factory Board. It is also reported they have placed an indent for 114 of these Guns. This is to be followed by a further order of about 300 Guns. The Gun is designed, developed and Made in India which enhances our indigenous capability of manufacturing state of the art equipment. As per reports about a regiment has been inducted as the production was impacted due to the pandemic.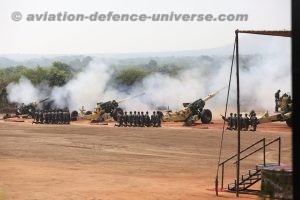 The other Guns pertain to the 155 mm Ultra-Light Howitzer (39 calibre) and the Self-Propelled Gun K 9 Vajra (52 Calibre). The Ultra-Light Howitzer (ULH) is manufactured by BAE Systems and is being procured by the Foreign Military Sales Route from the United States (US). The induction process has started from November 2018 and it is presumed that the first regiment is in good shape. While a few pieces have been obtained from the Original Equipment Manufacturer, the remaining possibly is Made in India by Mahindra Defence. The Gun is extremely light and can be helilifted by a Chinook, CH 47 C Helicopter which is procured by the Indian Air Force. It is expected that 145 pieces would be added to the inventory.
The K 9 Vajra is a Self-Propelled (SP) Gun which is an indigenised version of a South Korean SP Gun which would be Made in India by Larsen and Toubro Limited. The Gun would be utilised in the desert regions bordering our Western Front and would be the first SP Gun after the 105 mm Abbot and the 130 mm Catapult to be inducted into The Indian Army. About 100 pieces would be the initial order. The first Gun has been inducted in November 2018 and the Guns have manufactured at the Larsen and Toubro plant with assistance from by Samsung Techwin. Larsen and Toubro have moved with incredible speed and completed the order of 100 Guns by 18 February 2021. The Gun originally meant for the deserts is now being tried in Eastern Ladakh and may lead to additional orders. The quality of the Gun is good and may be exported if permitted.
What have we to prepare for?
The current situation in Afghanistan compels us to be ready for hostilities. China is extremely active extending its Belt and Road Initiative from Pakistan to the country. The battle space is likely to be: –
Hybrid
Multi domain environment.
Short notice, high tempo and high intensity.
Enhanced Battle Space Transparency.
Deeper and wider contact zones with Non-Contact Warfares.
Greater use of precision weapons.
Network Centricity both of platforms and systems.
Asymmetric Nature.
To be fought against a backdrop of Nuclear, Biological and Chemical Warfare.
The Indian Artillery is currently on the threshold of a new era with modernisation moving at a steady pace. The Regiment has expedited the modernisation process particularly with regard to Guns and Ammunition. There has been a great break through as far as indigenous development is concerned with the development by DRDO of the Advanced Towed Artillery Gun System. (ATAGS). Two prototypes have been developed by Bharat Forge and Tata Strategic Engineering Division. During the development trials the Bharat Forge Gun has achieved a range of over 48 Km in September 2017. This is a great achievement and the process of User Trials followed by General Staff evaluation has begun. This would really ensure that a Gun which is designed and developed in India enters our inventory. Further as per reports by The Print on 31May 2021 at www.theprint.in, Athos 2052,155 mm (52 calibres) gun has been declared as L1 for the Towed Gun project. The Gun is manufactured by Elbit System Israel and its Indian partner Bharat Forge. The Gun has proved to be considerably cheaper than the Trajan Gun offered by Nexter and its Indian partner Larsen and Toubro. The proposed order was for 1580 guns. Now that ATAGS is also under production by DRDO, the order would be initially for 400 Guns. We would have to wait and watch how ATAGS proceeds further.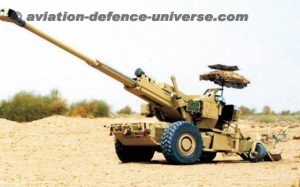 Now let us examine other aspects. The Mounted Gun System is possibly in the Request for Proposal Stage. Numerous contenders exist; Modified Dhanush, Nexter with L&T, Tata/Denel, BAE/Mahindra, Kalyani/Elbit and Yugo Import/Punj Lloyd. Being an important Gun, the process has been revisited. This is an extremely important system as the Gun could be employed universally and has the Gun mounted on the vehicle. The Extended Range Pinaka Rocket of 60 Km is also shaping well in the trials undertaken by DRDO in November 2020. The Pinaka and the Smerch must be configured for deployment in the mountains and the Gunners need to address this issue with deliberation. We also need a long-range Mortar for which suitable efforts must be put in.
The Regiment must guide the Indian Army in the procurement of Unmanned Combat Aerial Vehicles (UCAVs) and Loitering Missiles. To enhance our surveillance of Depth Areas we would need Aerostats which would help us in acquiring targets. Our surveillance equipment needs to be beefed up with additional equipment as also there is a dire need for Satellites to provide surveillance and target acquisition. The Artillery Combat Command and Control System (ACCCS) will be combining these elements to provide Synergise Firepower. The system needs to be updated and introduced in all formations.
As regards ammunition we need to seriously examine the employment of Precision Guided Munitions (PGMs) to ensure destruction of targets by accurate fire. The Regiment of Artillery needs to seriously consider this aspect and evaluate our requirements considering the prevalent operational environment. Further Sensor Fuzed Ammunition needs to be procured for precise engagements of mechanised targets. We are happy to learn as per www.army-tecnology.com, in an article of 24 June 2020 that Excalibur ammunition is being procured for the Artillery. It is recommended that at least 10 percent of the ammunition should be PGMs.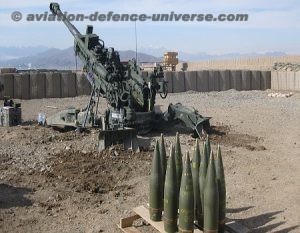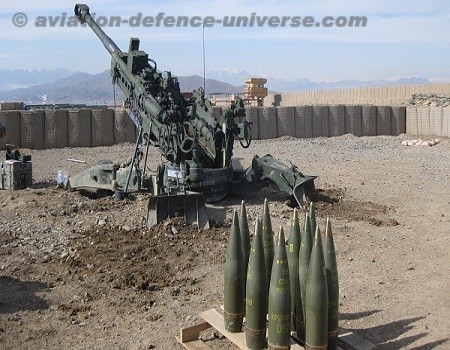 Wish List
It is time now to think about the future. The ongoing cases would possibly fructify in the next decade. What is our wish list? These are as follows:-
Precision Guided Munitions (PGM) which could be co-developed between the DRDO and Raytheon. The 155 mm Excalibur is an excellent PGM which could be Made in India, making it an excellent weapon against targets needing precise engagements which would include terrorist's hideouts across the Line of Control.
The UCAVs are the need of the hour. These could be Made in India with assistance from DRDO.
Development of 200 Km Gun using rocket projectiles. DRDO could co develop this with Lockheed Martin which has developed a 62 calibre naval gun and is keen to Make in India.
We have recently test fired a Hypersonic Missile. BrahMos must be made a Hypersonic Missile at the earliest to ensure we can match our Northern adversary.
There is a need to develop Direct Energy Weapons particularly Microwave Weapons which can be used on Missiles, lasers on UCAVs and the electromagnetic rail gun. Artillery must get involved to ensure that they continue in their race forward.
Loitering Ammunition for engagement of fleeting targets.
(Major General(Dr.)(Retd.) P K Chakravorty, VSM is a Delhi-based strategic analyst and a Former Additional Director General Artillery. The views in the article are solely the author's. He can be contacted at editor.adu@gmail.com)