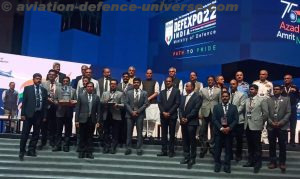 Gandhinagar.  22 October 2022. Garden Reach Shipbuilders and Engineers Ltd. (GRSE), a Mini Ratna Category 1 Defence PSU and a leading warship-building company of India, showcased its state-of-the-art ship building technology and the varied range of maritime
platforms that have been developed by the shipyard, at the 12 th edition of the Government of India's flagship Defence Exhibition-DefExpo 2022 at Gandhinagar, Gujarat.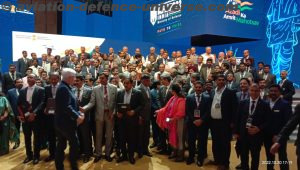 At the BANDHAN ceremony of DefExpo 2022, GRSE signed Thirteen (13) significant MoUs with Public and Private Partners from India and abroad that include- M/s Conceptia Software, Technologies M/s Elite Polymers, M/s Gibbs and Cox, IIT Kharagpur, M/s Indian Armour
Systems Pvt. Ltd., Indian Register of Shipping (IR Class), NIBE, M/s Patel Engineering Works, M/s RAADS Marine, M/s Sadhav Offshore Pvt. Ltd, M/s Saif Powertec Limited, SERC Chennai, Ltd, Pvt. Ltd, and M/s Vrinda Engineers Pvt. Ltd.
GRSE's three new innovative products namely the 01 MW Diesel Alternator, Double Lane
Modular Steel Bridge with 7.5m carriage width & New SERC certified 5.3m carriage width
Single Lane Modular Steel Bridges were also showcased at the DefExpo.
In its journey towards digitization in strengthening operations and shipbuilding performance,
GRSE also showcased the AI Enabled Non-Destructive Testing (NDT) process which aims to
update manual inspection with automated inspection through the usage of Artificial Intelligence, Machine Learning & Deep Learning that was developed in collaboration with IIT
Kharagpur.
The GRSE pavilion also gave a first-hand glimpse of the organization's shipbuilding
operations, indigenous capabilities, and various classes of ships delivered to Indian Navy,
Indian Coast Guard and friendly foreign countries. It showcased the ongoing projects of the
company that comprises four indigenous shipbuilding projects including three Advanced
Frigates under Project 17A, four Survey Vessels (Large), eight Anti-Submarine Warfare
Shallow Water Crafts for the Indian Navy and one Fast Patrol Vessel for the Indian Coast
Guard and a Next Generation E Ferry for Government of West Bengal. The model of
passenger cum cargo ferry built for Republic of Guyana was also on display.