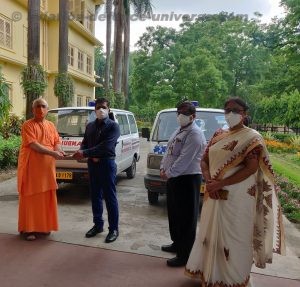 Kolkata. 25 May 21. Garden Reach Shipbuilders and Engineers Ltd., (GRSE), a Mini Ratna Category 1 Defence PSU and a leading warship building company of India, operating under administrative control of the Ministry of Defence,  continuing on its  CSR mission, donated 02 ambulances to Ramakrishna Mission, Belur Math during these challenging times.
The keys of the ambulances were presented by Cmde P R Hari, Director (Personnel) to Swami Bodhasarananda Ji Maharaj, the Assistant General Secretary of Ramakrishna Math and Ramakrishna Mission on 19 May 21 in Belur Math. Other senior officials of GRSE were also present to grace the occasion.
GRSE has continued in its efforts to stand with the people of India in battling Covid-19 from the onset of the pandemic in 2020. Contributing to the PM CARES Fund and West Bengal State Emergency Relief Fund, the Shipyard handed over relief  materials for the underprivileged population of Metiabruz, Kolkata and localities surrounding the Shipyard's premises & also to Kolkata Police personnel to enable them to perform their duty unhindered during the nationwide lockdown in 2020. 
To support the Nation's fight against the second wave of COVID-19, GRSE has recently signed MoU with two medical institutions in Kolkata, the Saroj Gupta Cancer Centre & Research Institute, Thakurpukur and Bharat Sevashram Sangha Hospital, Joka, for providing support to these hospitals to set up two Medical Oxygen Plants. The Shipyard thus, continues to  fulfill its responsibility as a corporate entity dedicated to the cause of underprivileged section of the population and the society at large.