Has a strong order book of around Rs 27, 400 crores
Has 19 warships at various stages of construction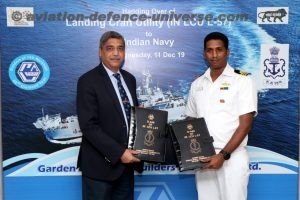 Kolkata, 11 Dec 2019.Garden Reach Shipbuilders and Engineers Ltd., (GRSE), a leading warship building company and Miniratna Category 1 company under the administrative control of the Ministry of Defence delivered IN LCU L-57 (Yard 2098),seventh in the series of eight such vessels to the Indian Navy. The ship is the 103 rd Warship built and delivered by GRSE so far since its inception in 1960.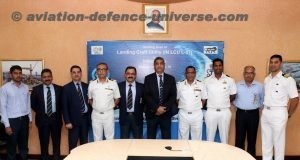 The Protocol of delivery and acceptance was signed between Rear Admiral VK Saxena, IN (Retd.), Chairman & Managing Director, GRSE and Commanding Officer of the vessel, Lt. Commander V Harshvardhan, in the presence of Commodore DK Murali,CSO (Tech), HQANC, Chairman D-448, S S Dogra, Director (Finance), Cmde. Sanjeev Nayyar, IN (Retd), Director (Shipbuilding) and Cmde.P R Hari, Director (Personnel) and other Senior Officials of GRSE and Indian Navy.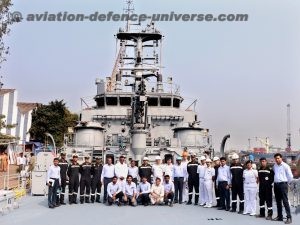 LCU Mk-IV ship is an Amphibious Ship with its Primary Role being Transportation and Deployment of Main Battle Tanks, Armored Vehicles, Troops and Equipment from Ship to Shore. These Ships based at the Andaman and Nicobar Command can be deployed for Multirole Activities like Beaching Operations, Search and Rescue, Disaster Relief Operations, Supply, and Replenishment and Evacuation from distant islands.
The entire design of the LCU Mark IV ships has been developed in-house by
GRSE as per requirements specified by the Indian Navy. The LCU is 62.8 m in length and 11 m wide and has a displacement of 830 T with a low draught of 1.7 m.
The First Ship of the Mark IV LCU Vessels IN LCU L-51 was commissioned
into Indian Navy during 2016.With the Handing Over of IN LCU L-57, GRSE has once again demonstrated its' Commitment to Strengthen the Maritime Security of the Nation. The shipyard has delivered 05 warships to Indian Navy in Last 10 months (Mar 2019- Dec 2019).
GRSE currently has a strong order book position of around Rs 27, 400 crore
under which there are a total of 19 warships at various stages of construction. The shipyard has been recently awarded with the ICC PSE Excellence Award (2017-18) for "Operational Performance Excellence" and 16 th National Award for "Excellence in Cost Management" in the category of Medium Public Sector Manufacturing Companies. Presently, the company has Six Projects that are under way viz., Five Projects of the Indian Navy and One of the Indian Coast Guard. GRSE is aggressively bidding for the new Request for Proposals (RFP) that have been issued by Ministry of Defence.
GRSE continues to sail on a growth trajectory with increased thrust on export of warships, incorporation of latest technologies (Artificial Intelligence, Machine Learning, Data Analytics) in various areas of operations to improve internal efficiencies & profit margins.