Tokyo. 14 November 2019. G&H Aerospace & Defense exhibits at DSEI Japan with components and modules for a range of
applications including low light imaging, rangefinding, targeting, sighting, sensing and observation. These include: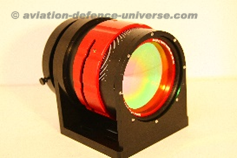 STINGRAY LENS MODULES
‒ Fuchsia
SR1596-A01: Compact, ruggedized SWIR for handheld, helmet
mounted and airborne applications
---

‒ GhostSight
SR2534-A01 and SR2313-A01: GhostSight Vis-SWIR for passive night vision applications.
---

‒ Cardinal
SR1936-A01: SWIR/MWIR Broadband ideal for laser tracking
(see-spot) applications.
---

‒ FireAnt
SR2939-A01: Cost effective, high value SWIR CZ lenses for
demanding perimeter surveillance systems.
KENT PERISCOPES AND SIGHTING SYSTEMS FOR ARMOURED FIGHTING VEHICLES
‒ Embedded Image Periscopes (EIPs)
EIPs provide classic direct view periscope vision combined with
the ability to display digital images from sensors and cameras
located on the vehicle, directly into the periscope window.
‒ Spectre
The high resolution multi spectral sensor pack compliments the
existing range of electro-optical system products and can be
configured to include day, low-light, shortwave, mediumwave and
longwave infrared detectors.