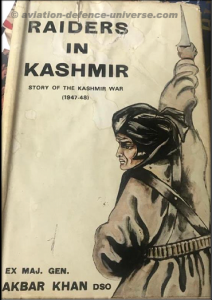 By Jai Kumar Verma
New Delhi. 19 October 2020. The book "Raiders in Kashmir" authored by retired Major General Akbar Khan of Pakistan Army contradicts the myth that tribals raided Kashmir in 1947-48. General Khan not only confessed that Pakistan directly assisted the raiders in Kashmir but also gave the graphic details of the involvement of Pakistan Army. He also narrated that Quaid-i-Azam Muhammad Ali Jinnah who was Pakistan's first Governor General was fully aware of Pakistan's assistance while Prime Minister Liaqat Ali Khan was not only cognizant but was helping in procurement of weapons, finance etc. The retired Major General not only boldly accepts Pakistan's assistance to Jihadists but also tries to justify the backing. He also gave details that how he himself was present in Kashmir though he was a serving officer of Pakistan army.
Akbar Khan also asserts that according to the basic concept of creation of Pakistan, the Muslim majority area had to be merged in Pakistan hence Kashmir which had about 75 percent Muslim population had to be an integral part of Pakistan. At the time of partition Kashmir's 84,500 square miles area had no effective rail or road linkage with India. The letter K in PaKistan is for Kashmir. The writer also mentioned that Kashmir was essential for Pakistan because of strategic as well as economic reasons.
The book also mentions about 'Operation Gulmarg' which was planned and launched by Pakistan army. The army Headquarters did the planning and groundwork of Operation Gulmarg since August 1947 i.e. soon after Pakistan was carved out from India. Under the operation support was extended to raiders of Kashmir. The writer recounts the details of the conspiracy hatched in Lahore and Rawalpindi to capture Kashmir through brute force with the complete concurrence of the rulers in Pakistan.
Major General (Retd) Akbar Khan was the member of Armed Forces Partition Sub-Committee in 1947 hence he had full idea that the total strength of Maharaja Hari Singh's army was 9,000 only and out of these 2,000 were Muslims. Hence the effective strength against Pakistan's invaders who were Muslims was only 7,000 and that too was posted at different places. Hence the most important thing was to choke the routes from where Indian army can enter Kashmir. Pakistan expected that as Kashmir had majority Muslim population it will be merged into Pakistan. They also threatened in case of necessity Pakistan will also use force to capture it.
Akbar Khan mentions how Pakistan army together with tribal forces intruded in Kashmir and how they were also involved in loot, rape and mayhem. He also mentions that in September 1947 he was told to chalk out a plan so that Kashmir can be captured forcibly. At that time, he was serving as Director of Weapons and Equipment (DW&E) in GHQ hence he had complete details of the arms and ammunition available in Pakistan and how much can be spared for Kashmiri invaders. However, the problem was firstly most of the weapons were lying in Delhi and secondly officially the weapons had to come through British Commander-in-Chief, and he will never allow to distribute the weapons of Pakistan army to Kashmiri raiders. However, the author diverted 4000 rifles of Punjab police to Kashmiri raiders. Besides these rifles other weapons were taken from illegal weapon market of FATA area. The author also gives details of the condemned weapons were given to raiders of Kashmir. Lieutenant Colonel Masud of the Cavalry also agreed to give condemned ammunition to Zaman Kiani and Khursid Anwar for distribution to raiders of Kashmir. Air Commodore Janjua gave winter clothing, ammunition and weapons from the stock of Air Force to Kashmir raiders. Kashmiri raiders included Pakistan army serving personnel also.
Khwaja Abdul Rahim, Commissioner Rawalpindi collected weapons, ration, money and even volunteers for attacking Kashmir. Prime Minister Liaqat Ali imported Light Machine Guns from Italy.
As trained army personnel were required Pakistan army enrolled Ex-Army officers of the I.N.A. (Indian National Army). The book also mentions that though the author captioned his plan as "Armed Revolt inside Kashmir" but makes it clear that "open interference or aggression by Pakistan was obviously undesirable".
Akbar Khan made 12 copies of his plan which included the distribution of the weapons to Kashmir invaders. He was called to Lahore where in a high-level meeting which was presided over by Prime Minister Liaquat Ali Khan and attended by Finance Minister Ghulam Mohammad (later Governor General), Mian Iftikharruddin, Zaman Kiani, Khurshid Anwar, Sardar Shaukat Hayat Khan. In the meeting, Akbar Khan's plan how to conquer Kashmir was accepted. Sardar Shaukat Hayat was made the overall commander while Khurshid Anwar and Zaman Kiani were made commander of the northern and southern sectors respectively. After some time, Akbar Khan was made Military Adviser to Prime Minister so that he can devote full time in implementation of the plan to capture Kashmir.
Major General Khan mentioned that Pakistani raiders crossed the border on 22 October 1947 and invaded Muzaffarabad and Domel on 24 October. The troops of Maharaja Hari Singh could not stop Pakistani troops which went ahead on Srinagar road and captured Uri. Baramula was captured on 26 October and the raiders butchered about 11,000 persons out of 14,000. The slaughtered people were mainly non-Muslims which indicates that it was religious cleansing.
The Pakistani raiders were moving towards Srinagar but in the meantime Maharaja Hari Singh realised the worsening situation and signed the accession to India. Once he acceded to India, immediately Indian troops reached Kashmir. Prime Minister of Pakistan called an urgent meeting on 27 October to chalk out a plan in view of Kashmir's accession to India and Indian troops reaching Kashmir. Akbar Khan was also called, and it was decided to attack Jammu and block the road so that Indian forces fail to send troops to Srinagar. The liquidation of Jammu became so important that even Jinnah came in the meeting of military top brass and instructed army to attack Jammu. When General Gracey the Britisher acting C-in-C of Pakistan army was told to attack Jammu he refused and mentioned that he will implement the order only after getting approval from Supreme Commander stationed in New Delhi.
Akbar Khan went to Kashmir and found that Pakistani troops are just four miles away from Srinagar and also assessed the requirements of the Pakistan army and found that troops needed armoured cars. Khan went to Rawalpindi and met Colonel Masud who agreed to send the Pak army personnel in plain clothes with armoured cars to fight as tribal. Pak army personnel from Karachi were also ready to come and fight as civilians though reluctantly. However meanwhile Indian army came out of Srinagar and Pakistani forces and tribals retreated to Uri without much resistance and later refused to fight although Akbar Khan tried to persuade them to stay and struggle.
The book also deals with several instances where Pakistan failed to take correct decisions because of over enthusiasm and desperation to capture Kashmir through force. The book also makes it clear that although Pakistan army personnel were involved in turmoil, pandemonium, loot and rape in Kashmir along with the tribal but Major General Khan had no repentance for it. It is good if the younger generation reads the book and understands that Pakistan is responsible for most of the problems Kashmir is facing today.
(Jai Kumar Verma is a Delhi-based strategic analyst and member of United Services Institute of India and Institute for Defence Studies and Analyses. The views in the article are solely the author's. He can be contacted at [email protected])