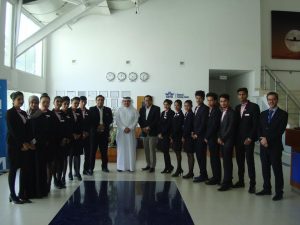 Mumbai/Delhi, November 23, 2016. A fresh batch of 15 students has successfully completed its Cabin Crew training under GAA SpeedJet Aviation, a partnership between Gulf Aviation Academy (part of Bahrain Mumtalakat Holding Company, the investment arm for the Kingdom of Bahrain) and Indian aviation training institute SpeedJet Aviation.  The GAA SpeedJet Cabin Crew Program is recognised by the Civil Aviation Authority (CAAi) of United Kingdom and rewards students with a certificate recognised by CAAi & all major aviation regulators around the globe.
"The detailed and well thought-out 24 week long program offers rigorous classroom and practical training in personality development, grooming, voice modulation, safety and first aid, among others. Along with this, we ensure ability and preparedness of our crew to handle all flight safety and emergency situations on board", said Capt. Dhaffer Al Abbasi, CEO, GAA.
"The students are trained in the GAA Cabin Crew mock set-up which includes 3 mock aircraft including A320, B737 & EMB 170 where all safety drills are performed by the students practically. We are the only company to offer this type of training in India. SpeedJet also takes care of students' visa, tickets, ground transportation & 3-5 star hotel accommodation (including breakfast) for the full course duration in Bahrain", added Capt. Dharamraj Shukla, Director, SpeedJet Aviation.
GAA is a key component of Bahrain's aviation sector and enjoys a stronghold in the MENA (Middle East and North Africa) region. GAA SpeedJet Aviation offers Indian students a competitive advantage in the aviation industry that is at par with international norms. The entity offers comprehensive range of structured training programs for all aviation personnel including pilots, cabin crew, engineers and ground staff with training sessions in GAA's training facility at Bahrain.
Established in 2008, SpeedJet Aviation offers multiple flying and ground training courses in the aviation sector. The company has registered a steady growth and, in a short span of time, trained large number of commercial pilots, cabin crew attendants and ground staff, all of whom are placed with various national and international airlines. The core team at SpeedJet Aviation comprises of experienced airline pilots and senior cabin attendants with a combined flying experience of over 50 years.
Gulf Aviation Academy (GAA) is a leading aviation training institute in the MENA region, based out of the Kingdom of Bahrain. The Academy is a fully independent and 100% owned subsidiary of Bahrain Mumtalakat Holding Company, the investment arm for the Kingdom of Bahrain. GAA enjoys international recognition of its training standards and quality of service; it has been awarded Approved Training Organization (ATO) from the European Aviation Safety Agency (EASA) and also Part-147 and equivalent BCAA Approval for maintenance training. It is also the first academy outside the UK to be a CAAi (subsidiary of the UK CAA) Accredited Initial Safety Training Cabin Crew Training Organization.